Sweetest in the Gale celebrates the quiet bounty found in everyday life at spring choral concert
---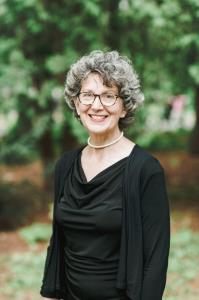 Sweetest in the Gale celebrates the quiet bounty found in everyday life at spring choral concert
Presenting Simple Gifts, on May 14 and 15 in Falmouth and Brunswick
Portland, ME (April 28, 2022) - After the COVID-19 pandemic canceled its 2020 and 2021 performances, Sweetest in the Gale (SinG) reminds us that "'tis the gift to be simple" this year with the return of its annual spring concert. On Saturday May 14 in Falmouth and Sunday May 15 in Brunswick, SinG presents Simple Gifts, a choral concert that uses the power of the voice to cultivate hope, give thanks for blessings, and share joy.
"Sweetest in the Gale has been a haven during this past year of pandemic and world crises," shares Director Maria Belva, who in fall 2021 took over leadership of the group from Oratorio Chorale's artistic director, Emily Isaacson. "Learning these choral pieces which speak to the heart of what makes us appreciate our world has given us comfort and strength. We hope that the blessings found in simple joys, expressed here in song, bring our audiences warmth and serenity that they can carry forward for at least a little while."
The program features works by a new generation of contemporary choral composers and arrangers, as well as gospel, folk, and traditional songs. Highlights include Canadian composers Christine Donkin's "The Dawn is Not Distant" and Sarah Quartel's "As You Sing," Dolly Parton's "Light of a Clear Blue Morning," Elaine Hagenberg's "O Love," and Carole King's "You've Got a Friend."
The choirs will be joined by Sarah Tuttle, soprano, as well as Horizon Voices: Concord, a high school treble choir also directed by Maria Belva. Additional accompaniment will be provided by John Ott, cello; Melody Hasbrouck, recorder; Brian Shankar Adler, percussion; and Elizabeth Hasbrouck, piano.
Sweetest in the Gale is an auditioned choir of treble voices and rehearses regularly on Tuesday evenings in Freeport. Auditions for the 2022-2023 season will begin in June—interested parties should contact mariabelva@gmail.com to schedule an audition.
Simple Gifts
May 14 | 4:00 p.m. | The Episcopal Church of Saint Mary, Falmouth
May 15 | 4:00 p.m. | St. Paul's Episcopal Church, Brunswick
Tickets: https://www.eventbrite.com/o/oratorio-chorale-31248741647
Adults: $20 in advance, $25 at the door
Students: $10 in advance, $12.50 at the door
We encourage you to purchase tickets in advance. Online ticket sales end 12 hours before the concert begins. Door tickets will be sold until venue capacity is reached.