TRAC Announces Rochelle Draper as Holiday Art Show
---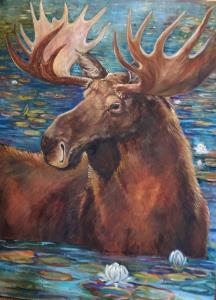 TRAC Announces Rochelle Draper as Holiday Art Show
Artist's Reception on November 23rd from 4:00 – 5:30 pm
November 14, 2019, Newry & Bethel, Maine: Table Rock Arts Center (TRAC) is honored to announce its newest exhibition, Works by Rochelle Draper, as TRAC's 2019 Holiday Art Show. The installation will run from November 23 – January 12, 2020.
TRAC celebrates Rochelle and her work with an Artist's Reception on Saturday, November 23rd from 4:00-5:30 pm at 162 Main Street in Bethel. The event is open to the public.
Rochelle Draper is a painter, writer and arts educator and lives in Otisfield, Maine. She is five-time published illustrator and is the author/illustrator of The Stone Wall Dragon, published by Down East Books.
Snow Flakes Falling is published on iTunes. Three earlier works were published through Carol Rhoda and Lerner Publishing and include, Vincent Van Gogh, Georgia O'Keeffe, and The World at his Finger Tips, a story about Louis Braille.
Rochelle's work has shown at Iron bound Gallery, Camden, Maine, at the Matolscy Art Center and Main Street Gallery, Norway, Maine and at Table Rock Arts Center, Bethel, Maine.
Deeply committed to the arts community, Rochelle spearheaded and co-curated the "Women who Run with Wolves Show" in August 2018 for thirteen local woman artists.
Rochelle draws her inspiration by maintaining her connection to the outdoors, wildlife appreciation and a love of gardening when she is not is her studio.
About Table Rock Arts Center (TRAC)
Table Rock Arts Center is an integrated environment featuring two gallery
spaces—one for multimedia and one for shows, workshops and whimsical
home décor. TRAC nurtures the fine arts and the sense of place, providing a
heightened cultural experience for the community. Every six to eight weeks, a
new featured artist is installed, accented by TRAC's home décor pieces. The
gallery presents a wide diversity of artistic expression and experience.
207.432.7239