The Beauty of the Night Sky
---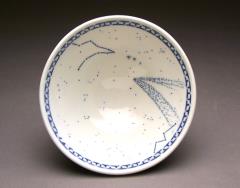 For the month of December, Maine Potters Market features David Orser's bowls and vases depicting galaxies, comets, planets and constellations in cobalt blue inlaid slip decoration. David explains: "I was inspired initially by reading of the depiction of an astronomical event on an ancient Native American Mimbre bowl made in 1054 A.D. The image was of a 23 pointed star next to their symbol for the moon, a rabbit. Archeoastronomers believe that (according to ancient Chinese documents) this depicts what was a super nova that was visible for 23 days in the daytime sky, the remnants of which are what we now see as the crab nebula. I went looking for good imagery back in 1997 and the skies were graced with appearance of a once in a lifetime event. Comet Hyakutake surpassed in size and brightness any of the minor comets visible in my short lifetime. Then, the very next year we got Comet Hale-Bopp. Wow! At the time I lived in the city and had to drive a ways to dark skies. I'm glad that I did. I will never forget the view. I chose a cobalt blue slip inlaid porcelain for it's ability to nicely render precise lines for the constellations and it's midnight deep blue. Where we live now the dark sky is full of the stars every clear night. Who knows what we will see next."
ABOUT DAVID ORSER – David Orser is one half of Cedar Mountain Potters, the husband and wife team of Laurel MacDuffie and David. They have been working in their studio at their 1800's era farm in Parsonsfield, Maine since 1999. David has been making pottery and sculpture for more than thirty years. He received his Master of Fine Arts degree at Cranbrook Art Academy. His work has been exhibited nationally and is in numerous private collections.
ABOUT MAINE POTTERS MARKET – Founded in 1978 by a group of potters who envisioned a cooperative market where they could sell their wares to the public and share their knowledge of pottery with customers, Maine Potters Market currently consists of fourteen Maine potters working in twelve studios throughout the state. The rich variety of handmade work available for sale keeps Maine Potters Market customers returning. December hours: Sunday: 10-6; Monday - Thursday: 10-8; Friday & Saturday: 10-9. Closed Christmas Day.