The Comedy Of Errors
---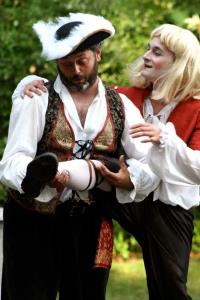 Ten Bucks Theatre Company invites you to experience **Shakespeare Under the Stars** The Comedy of Errors directed by Julie Arnold Lisnet. Ten Bucks Theatre Co. is pleased to announce this year's selection for our annual Shakespeare Under the Stars event: The Comedy of Errors.
What do you get when you add a shipwreck, 2 sets of identical twins separated at birth, mistaken identities, an impending execution, gold, a jealous wife, an exorcist, an exorcism, general mayhem and hilarity, AND a Bangor City Council person playing a politician? You get Shakespeare's The Comedy of Errors, of course!
The Comedy of Errors runs Thursdays through Saturdays July 21, 22, 23, 28, 29 and 30 at 6PM and Sundays July 24 and 31 at 4PM in beautiful Indian Trail Park in Brewer. The show will have encore performances at historic Fort Knox in Bucksport Thursday through Sunday August 4, 5, 6 and 7. All shows in the Ft. are at 6PM. All tickets are $10.00 and Indian Trail Park shows can be paid for online with a credit card at http://tbtcomedyoferrors.brownpapertickets.com or on site with cash or checks only. The box office opens 1 hour prior to show time. Please call 207/884-1030 for information. http://www.tenbuckstheatre.org/
For tickets to the Ft. Knox shows please call 207/469-6553 or email fofk1@aol.com FMI: http://fortknox.maineguide.com/. Bring blankets, folding chairs and a picnic and enjoy Shakespeare Under the Stars!
The Cast:
Antipholus of Ephesus: Patrick Molloy
Antipholus of Syracus: Nathan Roach
Dromio of Ephesus: Brogan Kelley
Dromio of Syracus: Adam Cousins
Adriana: Katie Toole
Luciana: Aimee Gerow
Solinus: Gibran Vogue Graham
Egeon: Ron Lisnet
Balthazar/Dr. Pinch/Emilia: Ben Layman
Angelina, the Goldsmith: Moira Beale
First Merchant/ Executioner: Alex Kearns
Second Merchant: Katrina Dresser
Luce: Natalie Lisnet
Courtesan: Jenny Hancock
Officer: Connor Magliozzi
Jailer: Beth Parsons