The Light at the End of the Tunnel by Artist Morris David Dorenfeld
---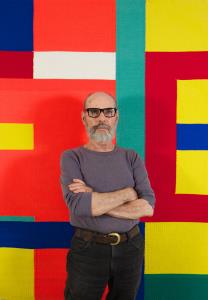 September 14, 2023
FOR IMMEDIATE RELEASE
Pascal Hall Presents The Light at the End of the Tunnel
by Artist Morris David Dorenfeld
(Rockport, Maine) – The tapestries of the late Morris David Dorenfeld, will be featured in a solo show at Pascal Hall that will open on Friday, September 29th with a public reception and book signing from 5 pm to 7 pm. The show takes its name The Light at the End of the Tunnel from Dorenfeld's last series before he died in February. It will be the first time they will be on exhibit as a group.
The show will also feature a GalleyTalk on Monday, October 2nd at 1pm with show curator Ron Crusan, president of the Morris David Dorenfeld Foundation, in conversation with Christopher Brewer Williamson, author of The Tapestries of Morris David Dorenfeld: Paintings in Fiber, published earlier this year.
A visual artist turned master weaver, Dorenfeld was known for his "paintings in fiber." A Chicago native, he graduated from the Art Institute of Chicago, then lived in New York and New Hampshire before settling on Spruce Head in Maine in 1978, with his life-long partner, Robert Francis Davis.
"I love textiles and fiber arts in general. Seeing how Dorenfeld was able to transform his paintings into tapestries, hand-woven on a loom, is nothing short of stunning," said Pascal Hall owner Linda Lesher.
Barnswallow Books + Pascal Hall are sister properties
creating community through curated books and art, and featuring GalleryTalks and BarnTalks in Rockport, Maine. Pascal Hall is located at 86 Pascal Avenue and Barnswallow Books is located just up the street and around the corner at 166 Russell Avenue.
Gallery hours for the show will be 10 am to 2 pm, beginning Saturday, September 30th through Wednesday, October 4th, or by appointment with Crusan, who can be reached at roncrusan@gmail.com or (207) 542-0837.
For more information, visit barnswallowbooks.com or contact Communications Director Teresa Piccari at teresa.barnswallow@gmail.com
Dorenfeld Image Captions:
Photo of Artist Morris David Dorenfeld in front of one of his tapestries.
The Light at the End of the Tunnel, wool tapestry by Dorenfeld.