Two Concerts, Two Luminaries
---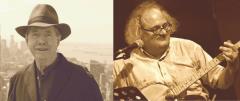 Please join us for Two Concerts, Two Luminaries at The Cannery at South Penobscot on Friday, September 30 and Sunday, October 2, 2017.
September 30 Concert: Thomas Buckner, baritone, who for decades has championed music of the avant-garde in America and throughout the world, will perform a solo set of commissioned pieces, one with video projection, followed by a group improvisation with Anna Demska (voice), Steve Norton (reeds) and Leslie Ross (bassoon). Buckner has appeared at Lincoln Center, Carnegie Hall, the Herbst Theatre, the Art Institute of Chicago, the Berlin Spring Festival, the Huddersfield Contemporary Music Festival the, the Prague Spring Festival, and the Angelica Festival of Bologna and is featured on over 50 recordings.
October 2 Concert: Legendary performer and virtuouso guitarist/banjoist Eugene Chadbourne, accompanied by Farmington's ownGustavo Aguilar on percussion, will play his own compositions and mustachioed Americana Mona Lisas, bringing his outrageously inventive,genre-bending interpretations of everything in American music from country to folk to bluegrass to free jazz to noise. Praised for his "crazed genius"--he "pushes traditional music to its edge and makes it jump"; inventor of "Shokabili" and too many other styles, forms and genres to name; with a discography of over 200 albums, Chadbourne has been an icon of the American underground indie scene for four decades.
Price: by donation, suggested $5- $15