Urban Exploration, solo exhibit by Jeff Bye at Greenhut Galleries, Sept 1-Oct 1
---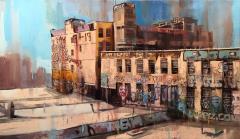 Urban Exploration is Jeff Bye's fourth solo exhibition at Greenhut Galleries and continues his ongoing exploration of unknown or ignored buildings before they disappear forever. Opening reception Thursday, September 1 from 5-7pm. Exhibit continues through October 1. The focus of the exhibition concentrates on locations throughout the east coast (NYC, Philadephia, Portland, ME), as well as areas he has traveled to in Europe.
About his work Bye writes, "I have always been drawn to textured surfaces and the patinas that evolve over time on the exteriors and interiors of abandoned buildings to historic structures that are being renovated, to the Mom & Pop stores that have not changed since they opened decades before. I've been determined to capture those moments in time before urban developers erase and take over their DNA forever. Time is of the essence and time is a huge factor in trying to document these structures and neighborhoods that had a certain and unique character that was separate from other areas of their city."
Jeff Bye holds a BFA from Rhode Island School of Design (RISD). Through RISD's European Honors program, he spent a year in Rome, Italy studying classical art and architecture. He received his MFA at the New York Academy of Figurative Art. His formal education exposed him further to the work of artists like Henri Matisse, Pierre Bonnard and Lucian Freud, whose styles influence his work to this day. Bye has been awarded the distinction of Master Painter from The Copley Society of Art, Boston, MA, a professional credential organization. At the time, he was the youngest master painter in the history of the organization.