We'll Handel the Children offers burnt out parents the luxury of stillness
---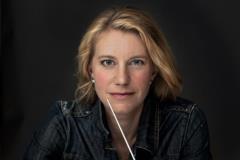 We'll Handel the Children offers burnt out parents the luxury of stillness
Featuring Arvo Pärt's Te Deum – November 4 and 6 in Portland and Brunswick
Portland, ME (October 24, 2022) - "Primal Scream" hotlines, meditation apps, bottles of wine: parents are struggling with the relentless challenges of raising children during the pandemic and are seeking creative ways to restore their sanity. Classical Uprising's We'll Handel the Children offers another tool for the pandemic parenting arsenal: time alone with soul-centering music.
The National Endowment for the Arts' 2012 General Social Survey found that a third of people who do not attend live music performances want to but are prevented by the demands of parenthood.[1]Created by professional conductor and mother of two, Emily Isaacson, We'll Handel the Children helps overcome these barriers by offering free babysitting so parents can experience live classical music without disruption. Children are provided with snacks, games, and babysitters while adults enjoy an uninterrupted experience with inspiring music.
"When you attend a performance, you secure a space without to-do lists and notifications," explains Isaacson. "By offering caregivers the luxuries of sustained stillness and heartfelt music, we hope to provide a refuge to recuperate."
For this moment of retreat, Isaacson chose Arvo Pärt's Te Deum, which she calls "an antitoxin to the pace of the modern world." Although Te Deum features over 70 musicians, Pärt's focus is on using sound to amplify silence and embrace stasis. "Like meditation or yoga," Isaacson explains, "to enter Pärt's music is to commit oneself to sitting with your inner world."
A Classical Uprising production, Arvo Pärt's Te Deum features the Oratorio Chorale and the Bowdoin College Chorus. We'll Handel the Children will be offered in two sessions at the performances on November 4, 2022, during Portland's First Friday Art Walk.
Arvo Pärt's Te Deum Performances
November 4 | 5:00–7:00 p.m. | First Parish Church, Portland
November 6 | 5:00 p.m. | Studzinski Hall, Bowdoin College, Brunswick
These events are offered free of charge but capacity will be monitored and pre-registration is recommended. To register, please visit https://www.eventbrite.com/o/oratorio-chorale-31248741647.
###
About Emily Isaacson - Conductor and Artistic Director
Dr. Emily Isaacson is fiercely committed to reimagining classical music for today's audiences. She is founder and artistic director of Classical Uprising, serving over 6,000 musicians and music-lovers through its programs: Oratorio Chorale, Portland Bach Experience, and Horizon Voices. Isaacson was named 2018 Maine Artist of the Year by the Maine Arts Commission, one of 50 Mainers Leading the State by Maine Magazine, and the 2018 face of Maine's Women's Work. Isaacson helped to launch Roomful of Teeth, a GRAMMY-winning new vocal music ensemble.In 2015 and 2018 (2021 pending), she won the American Prize in Choral Conducting. She has taught at Clark University and the University of Illinois, and is currently teaching at Bowdoin College. A St. Andrews Society Scholar, Isaacson holds advanced degrees from the University of Edinburgh, the University of Oregon, and the University of Illinois. She lives in Portland, ME with her husband, daughter, and son. https://www.eisaacson.com/
[1] National Endowment for the Arts, Why Don't They Come? Characteristics of Interested Non-Attendees of the Arts (2012)
About Classical Uprising
Classical Uprising offers a bold rethinking of the classical music experience through immersive events, performances, and educational programs. Formed in 2020 as a merger between Oratorio Chorale and Portland Bach Experience, we are a 501(c)(3) nonprofit committed to community development, creative expression, inclusivity, lifelong learning, and artistic excellence. Our mission is to enliven, strengthen, and connect communities by creating world-class, immersive classical music experiences for everyone. Through our programs—Oratorio Chorale, Portland Bach Experience, and Horizon Voices—we serve over 120 adult amateur singers, 70 young musicians, 60 professional artists, and more than 6,000 audience members.
For more information or to schedule an interview, contact:
Emily Southard – Managing Director, Classical Uprising