A Group Exhibit of Visual Arts Benefiting the World Wildlife Fund
Date: February 1, 2020 - February 29, 2020 (Sunday, Friday, Saturday)
Time: 10:00 AM - 03:00 PM
Location: Richard Boyd Art Gallery, Portland
---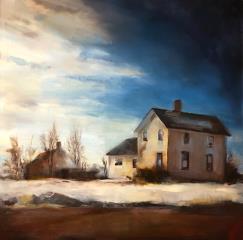 (Portland, ME) Join us Saturday, February 1st at 10:00 a.m. for the opening of a group exhibit of visual arts comprised of a selection of paintings and sculptures by 10 artists' with diverse backgrounds, perspectives, and interests joined by their love of creating art.
Whether you're drawn to contemporary abstracts or traditional realism, the exhibit includes paintings in a variety of styles and mediums by artists' Amy Bickford –gouache and watercolor; Patricia Chandler – oil, cold wax medium, and mixed media; Kevin Daley - oil; Jane Herbert - acrylic; Jen Pagnini – oil; Roy Perkinson – oil, and pastel; Wilson Stewart – acrylic; Susan Tan – watercolor; and a select offering of sculptures by Charles Ellithorpe - limited edition bronze sculptures; and Jean Noon - wire sculptures.
Ten percent of Richard Boyd Art Gallery's net income from the sale of art during the month of February will be donated to the World Wildlife Fund to help support their efforts to map and conserve ecoregions and improve the livelihoods of endangered species around the globe.
The exhibit is open free of charge between the hours of 10:00 a.m. and 3:00 p.m. every Friday, Saturday, and Sunday from February 1st through February 29, 2020. Additional days and times by chance or scheduled by appointment.
For more information about the exhibit contact Richard Boyd Art Gallery by phone at (207)-712-1097, via email at info@richardboydartgallery.com or visit the gallery's website at www.richardboydartgallery.com . We hope you'll like us on Facebook at www.facebook.com/RichardBoydArtGallery . Follow us on Instagram at #richardboydartgallery9327.
Copyright© 2020 Richard Boyd Art Gallery All Rights Reserved