Abstracting the Interior: Online Painting Workshop with Philip Frey | Winslow Art Center
Date: October 26, 2023 - November 16, 2023 (Thursday)
Time: 10:00 AM - 12:30 PM
Location: Winslow Art Center, ONLINE
---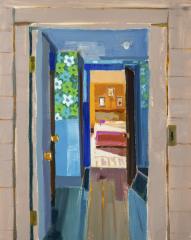 Philip Frey – Abstracting the Interior (Online); Thursdays, October 26-November 16, 2023
Date: Thursdays, October 26-November 16, 2023
Time*: 10:00 AM-12:30 PM Pacific Time, 1:00-3:30 PM Eastern Time
Level: All
Medium: All painting mediums (Philip will demo in oil)
*International Students: Clocks change one hour back in the USA on November 5. The UK & EU change clocks on October 29. Therefore, class time on October 26 and November 9 and 15 is 6:00-8:30 PM London Time. November 2 class time is 5:00-7:30 PM London Time. Please be aware of the time change when registering for this class.
All painters need to reinvigorate their creativity, from time to time, when our images become stale or rote. One way to do so is to look freshly at things by breaking down what we see into its basic, abstract elements: value, line, composition, and color. Interiors are an ideal subject to present seminal exercises designed to develop our creativity and expand our composition ideas and color palettes. Students will learn to reopen the doors to authenticity and grow as an artist. Be prepared to be challenged artistically, develop insights, and have fun. Open to all painters.
Each session will include a presentation/demonstration, followed by a series of painting exercises and instructional review of student work. A materials list will be supplied at registration. Philip will be painting in oil color.
Philip Frey is a celebrated career artist and instructor with a recently published book, Philip Frey: Here and Now, by Daniel Kany and Carl Little. Philip is known for his engaging, illuminating and positive teaching style. He is skilled at addressing his student's abilities and helping them mature as an artist. He exhibits at Courthouse Gallery Fine Art, Greenhut Galleries, Edgewater Gallery and Carver Hill Gallery and will be featured in a solo exhibition at Edgewater Gallery in the summer of 2023.