Acoustic Family Open Mic Night
Date: October 1, 2021
Time: 07:00 PM - 08:30 PM
Location: Bridgton Drive in, Bridgton
---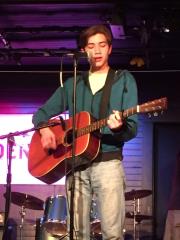 Connect with the local community through art, music, talent, non-talent and good cheer. Share a song, a poem, a two-step, a mime, a joke, a quirk, a story, a skit, a musical display, or the like. The atmosphere of performers waiting to share their songs, poems, or humor is supportive and the audience is eager to be there.
This is your night to share your voice, your dance, your humor, your stories, your poetry, your favorite party trick at the ALL ACOUSTIC Family Open Mic Night! Come experience local talent, support the community, and enjoy a family fun evening. Doors open at 7 and sign-up fills up fast. Two songs per group/performer or 10 minutes (includes set-up time). We want everyone to have their time under the lights!
We have established New Denmark Arts Center ACOUSTIC Open Mic Guidelines. Please look them over and plan for a fun evening for everyone.
Filter Events
Venue
Bridgton Drive in
Bridgton
ME
04022
Organization
Denmark Arts Center
Susan Beane
2074522412
gro.strakramned@ofni