An Evening of Middle Eastern Music and Dance
Date: October 21, 2016
Time: 07:30 PM
Location: The Dance Hall, Kittery
---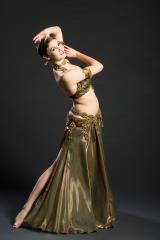 On Friday, October 21 at 7:30pm, dancer Rosa Noreen joins Middle Eastern music ensemble Zapion for an evening of Middle Eastern music and dance at The Dance Hall in Kittery. A dedicated teacher and an elegant performer, Rosa Noreen's singular style of belly dance is influenced by her ballet background and years of study of Egyptian dance. Known for her classical lines and friendly approach, Rosa delights students and audiences alike.
Founded in 2010 by Eric LaPerna, Zapion plays folk, classical and art music from the Turkish and Arab traditions, as well as Iranian and Balkan music and got its name from a Greek Taverna Udi Al who used to perform at in the 1970's. Eric has been a performing musician for over 25 years and is well versed in many different styles of percussion, with Middle Eastern hand drums and rhythmic systems as his specialty. He is a founding member of Okbari Middle Eastern Ensemble and has played with some of Maine's most prestigious ensembles and performers including the Daponte String Quartet and the late Udi Alan Shavarsh Bardezbanian. Eric is the Director of the Bowdoin College Middle Eastern Music Ensemble, and is a member of the Applied Music Faculty at Bates College as well as adjunct instructor of hand percussion at Bowdoin College.
Other stellar members of the ensemble include clarinetist Maria Wagner, who specializes in the performance of new solo and chamber music written for clarinet and bass clarinet, and studies music from Turkish, Arab, Armenian, and Greek traditions with master Armenian oudist and clarinetist Malcolm Barsamian; multi-instrumentalist Nathan Koloskos, trained as a classical guitarist who also performs on Oud and Kamancheh; violinist Sarah Mueller, who plays traditional music of America, Eastern Europe, and more recently, the Middle East; guitarist David Newsam, an Associate Professor at Berklee College of Music; and Leon Harkleroad, an accordionist, pianist, and percussionist.
Tickets are $16 in advance and $20 at the door and can be purchased at TheDanceHallKittery.org and Brownpapertickets.com.