Art Camp
Date: August 30, 2019 - September 2, 2019
Location: Friends Camp, South China
---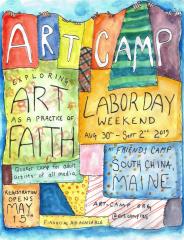 Where creative folks of all kinds experiment with art as a practice of faith.
What happens at Art Camp?
​Art Camp is full of opportunities to connect with fellow artists and seekers in a setting fostering experimentation and wonder. Artists can participate in creative, transformative group programming that allows them to delve deep into both their artistic and spiritual practices whilst in community. Hands-on workshops and collaborative projects allow artists to share the creative skills they bring and learn new ones. Group discussions and a variety of worship experiences encourage spiritual nourishment and growth and bridge the gap between art-making and practice of faith. Copious open studio time fosters an environment of sharing and play where artists can choose to collaborate or work solo as they choose. Many choices of summer camp activities like singing, swimming, boating, group games, and excursions in the woods bring the silly fun that makes Art Camp truly special. Most of all, we build lasting relationships between people who believe that art and faith are inextricably linked - relationships which will continue outside of Art Camp in the work we are led to do together.

Open to artists of all media: painting, video, illustration, music, performance, dance, photography, fibers, sculpture, writing....

Open to artists 18+.

Open to artists of all spiritual backgrounds who are ready to practice Quaker values together to create intentional community.