Auditions for USM Youth Ensembles, Reserve a Date by May 20
Date: May 9, 2022 - May 20, 2022
Location: Osher School of Music, Gorham
---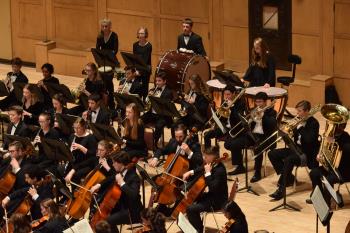 The Osher School of Music at the University of Southern Maine announces upcoming auditions for the USM Youth Ensembles, acclaimed for their orchestra and concert band performances each fall and spring at Merrill Auditorium.
The USM Youth Ensembles offers auditions for 2022/2023 membership for winds, strings, and percussion by reservation only during the week of May 23. Performing groups for youth musicians through high school include the Portland Youth Wind Ensemble, the Portland Youth Symphony Orchestra, the Portland Young People's String Consort, and the Portland Youth Junior Orchestra. Rehearsals during the academic year take place on Wednesday evenings at Corthell Hall on the USM Gorham campus.
Deadline to register for an audition for the fall/spring session is Friday, May 20.
In addition, the popular USM Summer Youth Music and Theatre Camps still have openings in concert band for youth instrumentalists ranging from outgoing 5th to 12th grade, and in chorus for singers ranging from outgoing 7th to 12th grade. Unlike the Youth Ensembles, auditions in the summer camps are only for placement and are accepted in order of registration date. Registration is open until each section is filled, and waiting lists are kept.
For more information about any of these youth music programs, visit usm.maine.edu/music/youth, or contact 207-780-5003.