Bradbury Mountain Arts
Date: November 23, 2019
Time: 10:00 AM - 06:00 PM
Location: Historic Mallett Hall, Pownal
---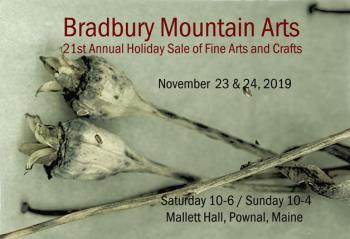 Bradbury Mountain Arts 21st Annual Holiday Show and Sale of Fine Arts & Crafts will represent 17 local artists featuring Jewelry, Painting, Photography, Ceramics, Fiber Arts, Metal Working, Sculpture, Printmaking, Weaving, and Turned Wood. Warm food and baked goods will be sold by students from Pownal Elementary School and the proceeds will benefit IMPACT. This event is free and handicap accessible. For more information, call 207-688-4744 or you can find us at:
www.facebook.com/bradburymountainarts
Thank you for your interest and we hope to see you there!

Filter Events
Venue
Historic Mallett Hall
429 Hallowell Road
Pownal
ME
04069
Sarah J. Bartlett
moc.tteltrabjharas@bjs