Christine Correa's Mishran Project at the Dance Hall - Kittery
Date: November 4, 2018
Time: 04:00 AM
Location: The Dance Hall , Kittery
---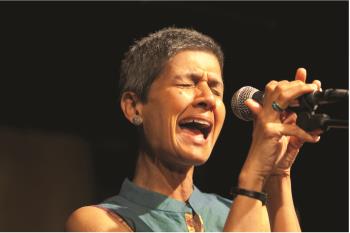 CHRISTINE CORREA'S MISHRAN PROJECT AT THE DANCE HALL
Collaboration of four New York City-based jazz and Indian classical musicians come together to explore the repertoire of singer Christine Correa.
Kittery, Maine- On Sunday, November 4th at 4 p.m. Christine Correa's Mishran Project will take the stage at The Dance Hall in Kittery. The Mishran Project is a collaboration of four New York City-based jazz and Indian classical musicians coming together to explore the repertoire of singer Christine Correa's home country of India. Drawing from both Indian folk traditions and the modern popular Indian songbook, these four musicians explore the music through a jazz lens, using the songs as an vessel for their own improvisation and experimentation. This project is very personal for Christine, who grew up singing many of these songs at her school in Mumbai. Together with accordionist Ben Rosenblum, guitarist Kenny Wessel and tabla player Ethan Fox, Christine is able to reconnect with her musical and cultural roots, and combine this with her extensive knowledge and experience in straight-ahead and free jazz.

The resulting sound is a unique amalgamation of various musical influences, resulting in the name of the project, Mishran, which means mixture in Hindi.

Vocalist Christine Correa is a native of Bombay, India currently residing in Brooklyn, New York. After relocating to the U.S. in 1979 to attend the New England Conservatory of Music in Boston, Massachusetts, she soon became involved in a variety of improvisational contexts. Christine has performed and recorded with artists such as Ran Blake, Steve Lacy and John LaPorta and has appeared at numerous festivals and clubs in the U.S., Europe, South America and India. She is a member of the Frank Carlberg Quintet and has been featured in many of the group's releases. Christine has also been featured on projects by composers Steve Grover, Sam Sadigursky, Nicholas Urie, Guillaume Orti and Laurent Coq. Christine's many other collaborators include John Hebert, Chris Cheek, Michael Sarin, Chris Speed, Ben Street, Kenny Wollesen and John O'Gallagher, among others.

In addition to the US, Christine has performed in Scandinavia, France, Spain, Africa, Switzerland, Poland, Morocco, Tunisia, Jordan, Israel, Argentina and India and at venues and festivals such as The National Center of Performing Arts (Mumbai), The Kennedy Center (Washington D.C.) and Finnish National Opera (Helsinki), Tribeca Performing Arts Center (NY), Rubin Museum of Art (NY), Symphony Space (NY), Jordan Hall (Boston), Jumo Jazz (Helsinki), Gdansk Jazz Festival (Poland), SIGMA Festival (Bordeaux), Span Festival (Nigeria), Jazz Yatra (India), Bordeaux Jazz Festival, Buenos Aires Jazz Festival, etc.


Christine is currently on the faculty at Columbia University's Louis Armstrong Jazz Performance Program and has been Director of the Maine Jazz Camp since 1994. She has given vocal workshops at Sibelius Academy and Ou- lunkyla Conservatory (Helsinki), in Buenos Aires and Cordoba (Argentina), Lagos (Nigeria), Windhoek(Namibia), Bowdoin College (Maine), University of Michigan in Ann Arbor and Kalamazoo, among others.