Comedy artists to compete for title in annual festival
Date: November 9, 2023 - November 11, 2023
Time: 06:00 PM - 09:00 PM
Location: Franco Center, Lewiston
---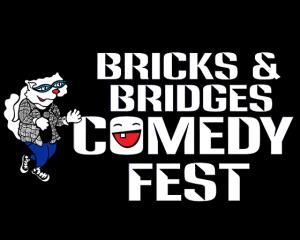 LEWISTON–105.5 WIGY presents the Bricks & Bridges Comedy Fest at 7 p.m. Thursday, Friday, and Saturday, Nov. 9, 10, and 11, at the Franco Center. Any stand-up comedian will tell you they have a tight five minutes, but who has The Tightest Five? Twelve of New England's rising comedy stars will deliver their best five-minute set in hopes of advancing to the semifinals. An opening and closing comedian will bookend the show.
Thursday, Nov. 9 will feature the preliminary round of the Tightest Five contest and special guest comedians. The semifinal round will take place on Friday, Nov. 10, and the finals on Saturday, Nov. 11.
Friday, Nov. 10 will feature a variety of stand-ups, headlined by comedian, philosopher, and joy sparker Rodney Norman. The Purveyor of Positivity won the 2008 Rhode Island Comedy Festival, was featured in the Boston Comedy Festival, and has recorded multiple Dry Bar Comedy specials.
Norman's social media followers and feedback are measured in the millions. His catchphrases including "Have a Super Awesome Day," "Go Be Weird," and "Enjoy Your Stupid Life" are proudly repeated and displayed by his ever-growing fanbase. Norman is more than an entertainer, he is an experience.
Saturday, Nov. 11 will feature a variety of stand-ups, headlined by nationally touring comedian, Kelly MacFarland. Comic, improviser, and actress, MacFarland has appeared on NBC's Last Comic Standing, Comedy Central, The View, and The Today Show. In 2019, she performed for a packed TD Garden at Comics Come Home, a fundraiser for the Cam Neely Foundation which helps cancer patients and their families.
In the corporate arena, MacFarland has worked with the American Heart Association, Blue Cross Blue Shield, and the Pittsburgh Women in Business Conference. She has also entertained U.S. troops overseas and recorded two albums available on all major streaming platforms.
Saturday night will also include a stand-up showcase and The Tightest Five finals.
The winner of the Comedy Fest will receive a televised stand-up set on The Nite Show with Danny Cashman, a weekly half-hour late-night talk show that airs Saturday nights throughout Maine. The show is based on the formats made famous by Johnny Carson, David Letterman, and Conan O'Brien.
The Comedy Fest show is for ages 18-and-older.
Thursday night tickets are $15 in advance and $20 at the door.
Friday and Saturday night tickets are $20 in advance and $25 at the door.
Tickets may be purchased at 207-689-2000 or at www.FrancoCenter.org/shows.
Bricks & Bridges has partnered with Lewiston-based Greater Androscoggin Humane Society and will collect supply and monetary donations at each show to benefit the shelter, which promotes a safe and humane life for all animals.
For more information about the Bricks & Bridges Comedy Fest, visit bricksandbridges.me, call 207-513-0742, or email maineeventcomedy@gmail.com.
Doors and cash bar open at 6 p.m. Comedy Fest is at 7 p.m. The Franco Center is at 46 Cedar Street, Lewiston. Parking is in the mill lot across the street. Handicap access is on the Lincoln Street Alley side of the building.