Dance party with Primo Cubano at the Dance Hall
Date: May 7, 2016
Time: 08:00 PM
Location: The Dance Hall, Kittery
---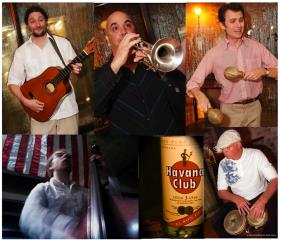 On Saturday, May 7 at 8PM, Maine's premier Cuban dance band, Primo Cubano, will return to The Dance Hall for another night of sizzling, joyful dance music.
Primo Cubano is a band of dedicated musicians who recreate the traditional sound of the classic Cuban "Son" as made popular by the "Buena Vista Social Club." They use the standard instrumentation of "Tres Cubano", trumpet, upright bass, bongo/conga and maraca/timbales as well as 3-part vocal harmonies in Spanish. Primo Cubano captures the authentic feel of Cuba's vibrant musical legacy to the world and brings it to life for audiences in Maine and beyond.
The five piece band includes tres guitarist Paul D'Alessi, trumpeter Marc Chellemi, conga player Lenny Hatch, vocalist and percussion player Eric Winter and bass player Duane Edwards.
Tickets are $12 in advance and $15 at the door and can be purchased at www.thedancehallkittery,org and www.brownpapertickets.com.