Dominique Dodge
Date: August 19, 2022
Time: 07:00 PM
Location: Denmark Arts Center, Denmark
---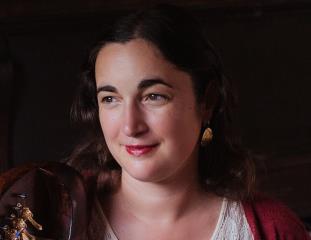 Dominique Dodge is a harper and singer from New Hampshire's White Mountains who maintains strong ties with Cape Breton Island in Nova Scotia. Her new album, "Cànan nan Teud" (The Language of the Strings) features archivally-sourced Gaelic songs from Cape Breton and explores the relationship between Puirt-à-Beul (mouth music) and traditional dance music.
Recorded in live takes at the historic Glencoe Mills Parish Hall in Cape Breton, the project features lively groups of dance tunes played and sung with lift and skill. The sound is buoyed by the warm and resonant fiddle work of Kenneth MacKenzie and Rosie MacKenzie, while percussive dancer Jennie MacKenzie provides the clear, crisp rhythm of leather soles on the hardwood floors of the hall. Choruses are joined by a group of local Gaelic singers.
Dominique has a passion for melody-driven dance music and responsive, rhythmic accompaniment, as well as for Gaelic songs, airs, and 18 century harp tunes. A Fulbright Scholar and a 2012 graduate of the University of Limerick with an MA in Irish Music Performance, Dominique also holds a BA Honours in Scottish Music from the Royal Conservatoire of Scotland in Glasgow. In addition to her work as a highly regarded performing artist, Dominique is a fluent learner of Scottish Gaelic and an experienced traditional arts educator.