Experiments in Watercolor: Diversity in Luminosity
Date: May 6, 2022 - April 29, 2022 (Sunday, Thursday, Friday, Saturday)
Location: Union of Maine Visual Artists, Portland
---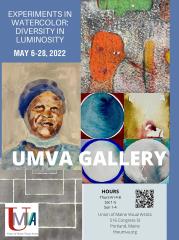 Seven Maine artists will exhibit the diversity of watercolor painting at the Union of Maine Visual Artists Portland Chapter Gallery in the Portland Media Center, 516 Congress St, from the First Friday Art Walk, May 6 to Saturday, May 28, 2022. The First Friday Opening hours are from 5:00-8:00pm.
Exhibit organizer Greg Mason Burns, and artists Alan Crichton, Rabee Kiwan, Ed Nadeau, Arthur Nichols, Liz Prescott, Jack Silverio investigate the many luminous qualities of the watercolor medium. The artists will be at the First Friday, May 6 opening and invite the public to visit, look, and talk.
The exhibit showcases seven different methods of creating watercolor works, from the realist to the abstract or imaginative, from small to large, from the conceptual to the concrete, and from thickly painted to thin, transparent washes. Each artist brings a unique approach to watercolors, and the goal of the exhibit is to showcase this luminous diversity.
Burns says, "I'm always curious what people think about watercolor as a medium. Viewers often conceive of an atmospheric, lucid landscape or portrait, painted in transparent washes with a masterfully spontaneous technique. One doesn't often see abstract or, even less frequently, thickly-painted watercolors, yet the medium's beauty can be seen in all practices."
The opening reception is Friday, May 6 from 5-8pm during the Portland First Friday Art Walk. The exhibition is free to the public, and the Portland Media Center facility and gallery is ADA accessible. Artworks in UMVA exhibitions are generally for sale through the artist(s) and a portion of each sale benefits the UMVA.
A selection of exhibiting artists will be present at weekly gallery hours:
Thurs 4-8 pm; Friday 4-8 pm; Saturday 1-5 pm; and Sunday 12-4 pm.