FAFALO!
Date: July 25, 2020 - August 30, 2020 (Sunday, Saturday)
Time: 05:00 PM - 06:15 PM
Location: Camden Amphitheatre, Camden
---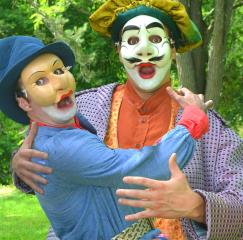 CAMDEN SHAKESPEARE FESTIVAL PRESS RELEASE
FOR IMMEDIATE RELEASE
July 2, 2020
Press contact: Stephen Legawiec stephenlegawiec@gmail.com (not for publication)
Contact Phone: 323-708-1579 (not for publication)
Camden Shakespeare Festival brings masks, puppets and comedy to the Camden Amphitheatre
Camden, ME—Camden Shakespeare Festival in associate with Ziggurat Theatre Ensemble will present the FAFALO! outdoors in the Camden Amphitheatre beginning on Saturday, July 25. Using colorful Balinese masks and huge, spectacular puppets, FAFALO! is a comic fantasy about what happens when a ludicrously unqualified buffoon is accidentally named king. Wacky, whimsical and ultimately uplifting, FAFALO! will delight adults and children.
"A janitor becomes king and thinks the job is going to be a piece of cake," says director Stephen Legawiec, "that is, until he has to solve a huge crisis that threatens the lives of the entire population. It's the story of an ordinary person called upon to do extraordinary things."
Fully masked throughout the play in custom-made Balinese masks, the ensemble of Maine-based actors – Hannah Daly, Andrew Edwards, Nolan Ellsworth, Emily Grotz, Dana Legawiec, Laura Maclean and Jared Mongeau – perform a broad and colorful range of characters. Masks were made by Balinese master craftsman Nyoman Setiawan. Spectacular oversized puppets were made by Maine puppetmaker Libby Marcus.
"Mask is not part of the American popular theater tradition, and audiences rarely get to see fully masked productions by local companies," says Mask and Movement Director Dana Legawiec. "Actors use their entire bodies from fingers to toes to make the mask come alive. All of the characters' thoughts and desires must be crafted into specific physical choices and communicated through the mask - relying on the text to tell the story is not enough. This larger-than-life style of performance is well-suited to our current time, when physical distance between actors and audience is imperative."
FAFALO! will be presented outdoors in the Camden Library Amphitheater on these dates: July 25, 26 and August 1, 2, 9, 15, 16, 29 and 30. All performances begin at 5pm. The production is suitable for children.
FAFALO! was rehearsed entirely outdoors in accordance with public safety protocols. This performance fully complies with all guidelines as set down by the State of Maine for outdoor performances. Audiences will be limited to 40 attendees and must sit in pre-determined, physically-distances seating areas. Audiences will also be required to comply with protocols including methods of entrance and egress, maintaining social distance and wearing masks when not seated. There will be no rain venue for this show. It plays outdoors only. In the case of rain we will cancel, and ticketholders may use their tickets at a future performance. Further information is on our website, CamdenShakespeare.org
More information is available and calling 207-464-0008 and Tickets are available at BrownPaperTickets.com only.
--------------------------------------------------------------------------------------
DETAILS FOR CALENDAR LISTINGS, FAFALO
WHAT:
Fafalo!
WHO:
Written and directed by Stephen Legawiec
Presented by Camden Shakespeare Festival and Ziggurat Theatre Ensemble
WHEN:
Opens: July 25; Continues through August 30
Saturday, July 25 at 5pm
Sunday, July 26 at 5pm
Saturday, August 1 at 5pm
Sunday, August 2 at 5pm
Sunday, August 9 at 5pm
Saturday, August 15 at 5pm
Sunday, August 16 at 5pm
Saturday, August 29 at 5pm
Sunday, August 30 at 5pm
WHERE:
Camden Amphitheatre
55 Main Street
Camden, ME 04843
PARKING:
Parking is available on the street as allowed.
HOW:
(207) 464-0008
TICKETS:
General Admission: $25.00
Seniors/Students $20.00
Kids 16 or under: $5.00
WEBSITE: