Fall Musical: "Of Thee I Sing" Directed by Edward Reichert
Date: October 27, 2017 - October 29, 2017
Location: Corthell Concert Hall, Gorham
---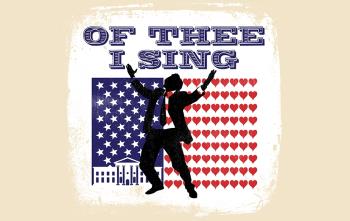 Friday-Sunday, October 27-29
MUSICAL THEATRE
George and Ira Gershwin's/George S. Kaufman and Morrie Ryskind's
OF THEE I SING
Book by George S. Kaufman and Morrie Ryskind
Music by George Gershwin
Lyrics by Ira Gershwin
Directed by Edward Reichert
Music Direction by Kellie Moody
This all-American political satire focuses on the election campaign and Presidency of John P. Wintergreen, whose party, lacking a viable platform, runs on love. With politicians skewered right and left, Of Thee I Sing is an hilarious and timeless send-up of national institutions that is as relevant as ever, (It even features its own impeachment proceedings!). In 1932, this show was the first musical to win the Pulitzer Prize!
"Of Thee I Sing" is presented by special arrangement with SAMUEL FRENCH, INC.
Co-sponsored by Saco & Biddeford Savings Institution and Richard & Edna Krull
Tickets are $15 for adults, $10 for seniors and USM alumni, and $5 for students. Purchase tickets online at www.usm.maine.edu/music/boxoffice, or by calling 207-780-5555.
Those needing special accommodations to participate fully in this program, contact Lori Arsenault, (207) 780-5142, loria@maine.edu. Hearing impaired: call USM's telex / TDD number (207) 780-5646.
Filter Events
Venue
Corthell Concert Hall
13 University Way
Gorham
ME
Lori Arsenault
2077805555
ude.eniam@airol