Forest Biodiversity Seminar and Guided Forest Walk
Date: November 14, 2021
Time: 01:00 PM - 03:30 PM
Location: Tear Cap Workshops, Hiram
---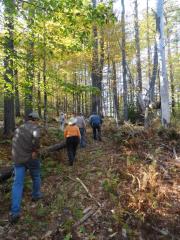 We are delighted to welcome Deb Perkins of First Light Wildlife Habitats for an afternoon seminar and walk about Forest Biodiversity. This educational event will feature a short indoor seminar session, followed by a guided walk through Tear Cap Workshops' small forested area.
This event is ideal for anyone with an interest in local ecology. Participants will gain a deeper understanding of the plants and animals that dwell in our forest and woodland edges, and highlights will include clear action steps to enhance biodiversity on your own property. We'll also be taking a special look at the role of invasive plant species.
There is a registration fee of $10 per person to help defray program costs. Space is limited to ensure a quality workshop experience for all participants. For more information about this event or Tear Cap Workshops, please email us at info@tearcapworkshops.org or call us at 207 -625-3396.
For more information and to register, please see our website: https://tearcapworkshops.org/events/forest-biodiversity-seminar-with-deb-perkins/
About the instructor:
Deborah Perkins is a wildlife ecologist with 25 years of experience and a lifelong commitment to wildlife conservation. As "The Personal Ecologist" and the owner of First Light Wildlife Habitats, Deb partners with eco-minded landowners to create thriving wildlife habitats in their backyards, gardens, fields and farms, woods, or campuses – at any scale. Deb's infectious enthusiasm and dynamic speaking style leave people feeling inspired, hopeful and ready to take action.
More information about Deb and First Light Wildlife Habitats can be found at: https://www.firstlighthabitats.com/