Franco American musical artist bringing French culture to Franco Center
Date: February 17, 2024
Time: 12:00 PM - 02:30 PM
Location: Franco Center, Lewiston
---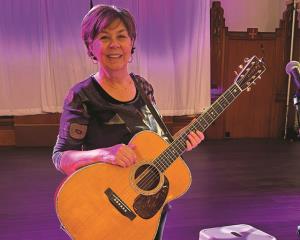 PHOTO CAPTION: Josée Vachon, a favorite Franco American performer among regular patrons of the Franco Center, can see her perform in person at 1 p.m. Saturday, Feb. 17. Tickets are available at 207-689-2000 and www.francocenter.org/shows. The Franco Center is at 46 Cedar Street, Lewiston.
Josée Vachon to perform in afternoon concert at Franco Center Feb. 17
LEWISTON—Musical artist Josée Vachon will perform at 1 p.m. Saturday, Feb. 17, at the Franco Center. She shares her Franco American joie de vivre–her "joy of living as a Franco-American" through her music. Born in Quebec and raised in Maine, Vachon has been sharing her Franco-American upbringing for over 40 years, through traditional and contemporary folksongs from Quebec and Acadia, as well as her own compositions.
"Lewiston is a special place for me, just because of the strong support I received from fans at the very beginning of my career," said Vachon. "I love coming back and having a chance to reconnect with many fans and friends!"
Though she often entertained at her family gatherings, she began singing publicly with the support of the Franco-American Center at the University of Maine, where she discovered others who shared the same rich heritage. She quickly gained recognition as a Franco-American voice through her first performances at state festivals in Lewiston and Madawaska, Maine and at schools and parish soirées.
She has a dozen solo recordings to her credit and continues to perform and record the music that best represents her love of Franco-American culture.
Tickets can be purchased through the Franco Center's box office in person from 10 a.m. to 1 p.m. Tuesdays and Wednesdays or call 207-689-2000. Ticket purchases can be made online at BOX OFFICE TICKETS.
Tickets are $20 in advance and $25 at the door day of show.
Doors and cash bar open at noon. Concert is at 1 p.m. The Franco Center is at 46 Cedar Street, Lewiston. Parking is in the mill lot across the street. Handicap access is on the Lincoln Street Alley side of the building.