GEEL by René Goddess Johnson
Date: September 25, 2018
Time: 07:30 PM
Location: Wish Theater, Brunswick
---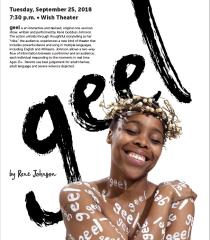 The action unfolds through thoughtful storytelling as her "tribe," the audience, experiences a new kind of theater that includes powerful dance and song in multiple languages, including English and Afrikaans. Johnson allows a two-way flow of information between a performer and an audience; each individual responding to the moments in real time. Ages 13+/parents use best judgement for adult themes, adult language and severe violence depicted.
There are limited tickets available for this performance. Please call 207-725-3663 for more information about ticket availability.
Sponsored by the Alice Cooper Morse Fund for the Performing Arts, the Sexuality, Women, and Gender Center, and the Gender and Women's Studies, and Africana Studies Programs.