Installations--Last Day--Celebration & Hot Rot
Date: October 6, 2019
Location: The Cannery at South Penobscot, Penobscot
---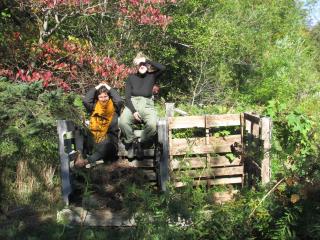 Installations--LAST DAY--Celebration & HOT ROT
A unique performance and zine launch with Eulalia Zigman and Sarah Finn (movement, textiles and poetry).
Please join us for closing day of the 2019 Sound Installation Festival for we which we have the pleasure of presenting this first showing of HOT ROT --following their week-long residency at the Cannery.

Eulalia Zigman / Sarah Finn
HOT ROT is a corporeal love letter to the compost pile we cohabitate in and tend to. This works in process showing is a physical exploration of disintegrations in revelation; an archive of sensual emergence from de/composition. This installation performance is the culmination of a week-long residency and assemblage, where Zigman and Finn dug into the material of decay and disruption as the encounters that bind us joyously, and in complex networks, to one another. Eulalia Zigman and Sarah Finn invite the public to join them in this exploration. Light food and printed material to accompany this showing.
LAST CHANCE to view the works of our 2019 Sound Installation Festival with works by Norton, Ostrowski, Wright, Ross and Chessa!
Luciano Chessa, #ooffoo #ffooff, an interactive installation which merges the experience of traditional framed art with sound art.
Steve Norton, Requiem, an electroacoustic composition whose sound material is of species which have gone extinct during the era of recorded sound.
Matthew Ostrowski, Summerland, an installation for an array of 24 antique telegraph sounders, where all sounds are derived from the writings of Samuel Morse, the inventor of the telegraph, and transcripts of Kate Fox, a medium and one of the founders of the Spiritualist movement communications with the Summer Land.
Leslie Ross, water harp: the Winslow Sirens, a sound construction that uses a discarded electrical factory box, unused canning cans and the flowing Winslow Stream to excite strings. Funded in part by a grant from the Maine Arts Commission, an independent state agency supported by the National Endowment for the Arts.
Walter Wright, a multi-media portrait, a site-specific quadrophonic sound and multi-channel video installation based on patterns and rhythms observed during his recent residency at The Cannery.
Admission: by donation $5 - $20