MAINE CASTING: A PANEL DISCUSSION
Date: March 18, 2021
Time: 07:00 PM - 09:00 PM
Location: Online, Portland
---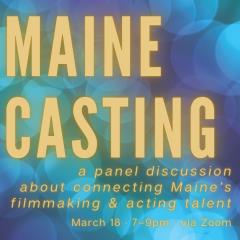 Are you a Maine filmmaker wondering how to get experienced acting talent for your next commercial?
Once you get talent in front of the lens, do you know how to work with them?
And in these days when equity and inclusion are top of mind, how can you achieve this in your casting practices?
Are you a Maine theatre actor looking to get a role in a film, but don't know where to start?
How the heck do you get cast and then advocate for yourself on set?
You've got questions, and our panel of casting experts have answers! Join filmmakers and actors to learn the ins and outs of casting and being cast in Maine media and film productions.
Our expert panel consists of a film and theatre director (Sean Mewshaw), casting director (Dee Cooke), commercial producer (Chuck Martin) and an equity consultant (Rene Goddess Johnson). Each panelist has years of casting experience and is excited to share their insights Maine filmmakers and actors looking to connect the dots.
Registration by donation – register today via Eventbrite!
Suggested $5 donation for MFA Members; $10 donation for non-members
For more information, visit the MFA website.