Maine Pottery Tour
Date: May 5, 2018 - May 6, 2018
Location: Maine Pottery Tour, Liberty
---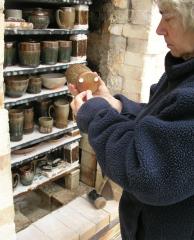 Maine is home to many clay artists – potters & sculptors, all working with earth, water, air & fire to make beautiful, useful, and intriguing objects. It takes a certain kind of person to work in clay – patience, perseverance and a sense of humor help! And although each potter works with the same basic ingredients, each leaves a strong trace of their own personality in the clay and glazes, and the firing methods they chose.
On May 5th & 6th, you have an opportunity to meet the creative people who throw the pots and fire the kilns. The Maine Pottery Tour celebrates its 7th year with 43 studios welcoming the public to meet the artists, peek in the kilns, and shop for pottery and other fine handmade work. Maybe even try the wheel yourself!
There are three legs to the tour: the Central Maine leg, the Coastal leg, and the Southern Maine leg. For a complete list of participating studios, please visit www.mainepotterytour.org . There you will find links to studios and an interactive map to plan your pottery road trip.
On the Coastal leg of the Tour, there are 10 stops:
van der Ven Studios 257 Main St, Lincolnville
Camden Clay Co. 42A East Fork Rd, Camden
Fireside Pottery 1478 Camden Rd, Warren
Neighborhood Clay & Liz Proffetty Ceramics 590 Maine St, Damariscotta
Pottery Farm 943 Belfast Rd, Knox
Jean Hardy 185 Back Belmont Rd, Belfast
Belfast Clay 132 High St, Belfast
Everyday Pottery 103 Northport Rd, Belmont
Prescott Hill Pottery 261 Prescott Hill Rd, Liberty
Barbara Walch Pottery 33 Knox Station Rd, Thorndike