Maine Pottery Tour
Date: May 4, 2019
Time: 10:00 AM - 05:00 PM
Location: Maine Pottery Tour, Many Towns
---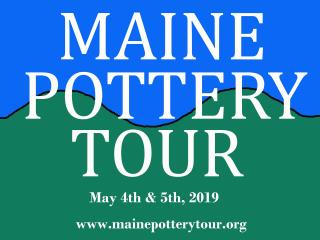 The first weekend in May is Pottery Weekend in Maine!
Clay studios all over Maine open their doors to the public on May 4 & 5th. The Maine Pottery Tour offers demonstrations and giveaways, a chance to meet the artists, shop for handmade pottery, and get a glimpse into life as a potter in Maine. You can even try the wheel yourself at some locations or paint a plate of your own.
This year the Maine Pottery Tour has 37 participating studios, from Kittery to Swanville to Phillips.
In Central Maine, there are 13 tour destinations:
Fine Mess Pottery 131 Cony St, Augusta
Red Door Pottery, 14 North Pearl St, Augusta
Hallowell Clay Works 157 Water St, Hallowell
The Potters House 82 Stevenstown Rd, Litchfield
The Potter's Shed 605 Hallowell-Litchfield Rd West Gardiner
d harwood Pottery 196D Main St, Winthrop
Maple Lane Pottery, 36 Greeley Rd, Windsor
Loken Pottery 26 Bowman St, Farmingdale
Whitefield Pottery 442 Howe Rd, Whitefield
Rob Sieminski Bog Pond Rd, Phillips
Martha Grover & Josh Rysted 630 West Bethel Rd, Bethel
Tim Fischer Pottery 394 Ridge Rd Lisbon
Barbara Walch Pottery 33 Knox Station Rd, Thorndike
On the Coastal leg of the Tour, there are 11 stops:

Chouinard Ceramics, 75 Main St, Wiscasset
Al Scovern/West Third Ceramics, 108 Congress St, Belfast
Van Der Ven Studios 257 Main St, Lincolnville
Fireside Pottery 1478 Camden Rd, Warren
Neighborhood Clay & Liz Proffetty Ceramics 590 Maine St, Damariscotta
Jody Johnstone Pottery, 135 Webster Rd, Swanville
Barbara Walch Pottery, 33 Knox Station Rd, Thorndike
Good Land Pottery, 487 Morese Rd, Montville
Pottery Farm 943 Belfast Rd, Knox
Everyday Pottery 103 Northport Rd, Belmont
Prescott Hill Pottery 261 Prescott Hill Rd, Liberty
In Southern Maine, 13 studios are participating:
Zwellyn Pottery 20 Spencer Ln, Limington
Wendy Twitchell Porcelain 232 Beachwood Ave, Kennebunkport
Pottery Girl 1104 Pequawket Tr, Standish
Portland Pottery 118 Washington Ave, Portland
Homeport Pottery 131 Beachwood Ave, Kennebunkport
Peeper Pond Studios, 18 Mast Rd, Scarborough
Chris Davis Pottery 81 Seabury Rd, York
Shannon Wong Pottery 59 St George St, Portland
Delany Arts, 20 Center St, Yarmouth
Southern Maine Clay Guild, 22 Government Ave, Kittery
Ash Cove Pottery, 75 Ash Cove Rd, Harpswell
Ocean Fire Pottery, 23 Woodbridge Rd, York
Chase's Garage, 16 Main St, York
Filter Events
Venue
Maine Pottery Tour
37 Locations
Many Towns
ME
04330-5304
Lori Watts
612-314-9517
moc.yrettopssemenif@ofni