Makin' Whoopie: Ida LeClair's Guide to Love & Marriage
Date: November 9, 2018 - November 10, 2018
Time: 07:00 PM - 09:00 PM
Location: The Public Theatre, Lewiston
---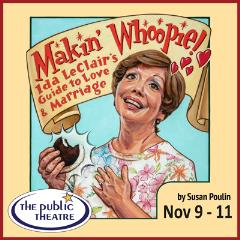 Makin' Whoopie: Ida LeClair's Guide to Love & Marriage
Written and performed by Susan Poulin
Nov 9 @ 7pm, Nov 10 @ 3 & 7pm, Nov 11 @ 2pm
$20 Adult / $17 Group (10+) / $5 Youth (18 and under)
Is your "happily ever after" in need of a little fine tuning? It's Ida to the rescue! The funniest woman in Maine returns with a show plumb-chucka-full of hilarious stories and down-home advice on how to keep your marriage sweet, simple and easy. Well, she is a Certified Maine Life Guide, after all.
In Makin' Whoopie!, Ida tackles the big questions like, "What do a whoopie pie and marriage have in common?" "How do I get my sexy back?" and "You want me to do what with your ashes?" Get the inside scoop on senior tattoos, staycation do's and don'ts, and the latest adventures of the Woman Who Runs with the Moose. As Ida says, "Charlie and me have been married for over forty years. That don't make me an expert. But it certainly gives me a lot to talk about!"
Special Events:
Wine-Down Friday, Nov 9 - lobby opens for wine sampling at 6:00, curtain at 7:00. (courtesy of Roopers)
Hearing Assistance and handicapped seating are available upon request.
Run Time: TBA