NEIL MCGARRY'S "A CHRISTMAS CAROL"
Date: December 16, 2023
Time: 03:00 PM - 05:00 PM
Location: Saco River Theatre, Bar Mills
---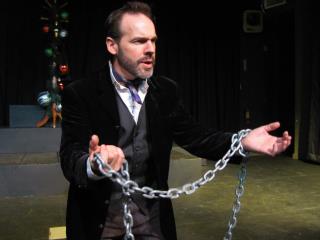 (2) Shows - 3 PM and 7:30 PM
Actor Neil McGarry returns, for the 3rd year, to his awarding winning, solo performance of Charles Dickens' A Christmas Carol.
Directed by Ross MacDonald, McGarry!s performance was named "Best Of Boston" by critic Jules Becker and won "Best Solo Performance" from the Independent Reviewers of New England in 2014.
Armed only with a bare stage, a few props, and Dickens' glorious words, McGarry delivers the perennial holiday classic in a tour de force that has left audiences riveted from Boston to Prague. Joyous, captivating, and witty, A Christmas Carol is a fully staged, full-throated leap into Dickens' most famous story, delivered with a simplicity that disarms and touches the heart.
Since 2013, McGarry has been on the road with A Christmas Carol, touring New England initially, then the East Coast, and, finally, Europe. 2018 and 2019 saw A Christmas Carol on stages across the continent and the UK with performances in Innsbruck, Dublin, London, Bath, Basel, Brunico, Dusseldorf, Geneva, Co. Leitrim, and Prague.
Neil's most recent work includes playing the actor Joseph Cotten in the up-coming Paramount Plus series Miss Fallaci due in 2024. He has a featured role in the film Masas/Sisters which just won "Best Film" and "Best Director" awards at the Warsaw Int. Film Festival as well as multiple other awards in film festivals across Europe. Neil also appears in Hill Of Vision (currently streaming on Amazon Prime), Miranda's Mind, and Manaslu – Der Berg Seelen. He will be returning to the Plymouth Philharmonic in December and has made multiple appearances with the Cape Symphony, Plymouth Philharmonic, and the Fremont Symphony in California. A professional actor for over thirty years, Neil received his training at the National Shakespeare Conservatory. He is the founder and former Artistic Director of The Bay Colony Shakespeare Company. Neil currently lives in the Italian Alps.