NEVER LEAVING THIS BOAT—Fragments of a Blues Opera
Date: September 11, 2021 - September 12, 2021
Location: The Steel House (Amphitheater), Rockland
---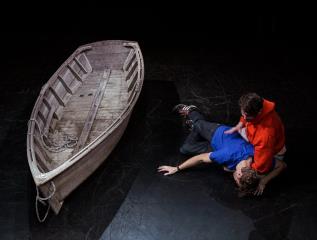 About The Production:
"NEVER LEAVING THIS BOAT—Fragments of a Blues Opera"
This provocative and challenging new work by playwright Michael Gorman charts the rise and fall of a young commercial fisherman through the intrusion of addiction and explores the role of myth and storytelling as both sustaining and destructive forces in a Northeast coastal fishing community.
Using Melville's 19th-century monster as a metaphor for the modern plague of opioid addiction, Gorman explores the ruinous effects of the opiate epidemic on the commercial fishing industry in a tale that stretches across generations and ancients—lost mariners, lost souls, lost lives.
"NEVER LEAVING THIS BOAT" will tap into the deep ritualistic healing power of the blues—incorporating original live music and song, spoken word, performance, community participation, and testimonials— to restore connections lost or frayed by the compound crises of the opiate epidemic and COVID. Now, more than ever the time seems right to come together and celebrate the spirit of the blues and the inspiring strength of human connection in the wake of adversity.
The production is part of Gorman's on-going project
Chasing The New White Whale—Harpooning Addiction
--a performance-based art & advocacy model created by the playwright and his production company The Forty Hour Club—a collective in independent artist's dedicated to bringing awareness to the issue of opiate addiction in the commercial fishing community of Maine and New England.
Through the use of metaphor and the sharing of personal stories by members of the community, the productions seek to create an open forum for discussion around critical issues in the community. The ultimate goal is to propel constructive change and help build resiliency in the face of challenges such as the opiate crisis.
National Recovery Month is a National observance held every September to educate Americans about substance use disorder and treatment.
---
WHERE:
The performances will take place outdoors on the waterfront at The Steel House Amphitheater—639 Main Street, Rockland, ME.
(next door to The Apprenticeshop)

WHEN/SHOWTIMES:
Saturday, Sept. 11th @ 1:00pm & 4:00pm (with talk-back)
Sunday, Sept. 12th @ 4:00pm (with talk-back)
(Rain Dates/Times : Sunday, Sept 12th @ 1:00pm & Monday Sept. 13th @ 5:30pm)

​Ticket information www.fortyhourclub.com