NUEVAS COLOSA / Artist Talk, Performance & Community Potluck,
Date: November 22, 2019
Location: Cannery at South Penobscot, Penobscot
---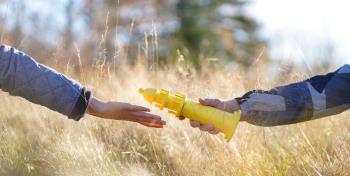 NUEVAS COLOSA / Threadbare Theatre Workshop
Artist Talk, Performance & Community Potluck
The New Colossus, NUEVAS COLOSAS is a performance art piece which explores immigration across Maine through the spoken art of poetry. Performer Joshua McCarey and Threadbare Theatre Workshop, in residence at The Cannery at South Penobscot, will give a public talk and performance of NUEVAS COLOSAS.
Inspired by Emma Lazarus' poem, NUEVAS COLOSAS quests to make visible the contributions of immigrant women to Maine society in the time since Lazarus' poem was penned in 1883. McCarey will be joined by Kate Russell and Esther Adams of Threadbare Theatre Workshop, whose mission is to illuminate epics in a simple way through the magic of resourceful storytelling; laying bare our humanity so that we may thread more empathy into existence.
All ages welcome to this free community event, with potluck at 7:00pm following presentation.
Bring a favorite dish if you can!