Natural Wonder, the Ultimate Stevie Wonder Experience
Date: March 20, 2020
Location: Gracie Theatre, Bangor
---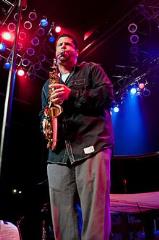 Natural Wonder, the Ultimate Stevie Wonder Experience, to Bring Chart-Topping Hits to the Gracie Theatre
Live performance recreates the look, feel, and sound of Stevie Wonder
BANGOR, MAINE – March 5, 2020 – Stevie Wonder is considered by many to be one of the most successful musicians and songwriters in history. On Friday, March 20 at 7:30 p.m., members of the public can experience Wonder's inspiring and innovative contributions to pop, rhythm and blues, rock and more at Husson University's Gracie Theatre.
"Stevie Wonder fans will be blown away by this group's spot-on renditions of music from Wonder's iconic catalog, spanning three decades of hits," says Jeri Misler, managing director of Husson's Gracie Theatre. "Members of the public attending this performance will enter in 'Wonder,' and leave in awe."
Natural Wonder, the Ultimate Stevie Wonder Experience, features a full-band, complete with a crack rhythm section, a full-fledged horn ensemble, and celebrated artist Gabriel Bello. Bello is a #1 Billboard-ranked vocalist, producer and multi-instrumentalist who channels the energy and artistry that made Stevie Wonder an icon across decades and genres.
Audience members will be able to groove to Motown-era hits like "Signed, Sealed, Delivered" and "My Cherie Amour." Natural Wonder will also perform the fusion-flavored 70's platters like "Master Blaster" and "Do I Do," the genius of "Songs in the Key of Life," and the signature harmonica solo of "Isn't She Lovely." Finally, no tribute performance to Stevie Wonder would be complete without Stevie's modern masterpieces like "My Love is on Fire."
Gabriel Bello and the industry veterans who comprise Natural Wonder recreate the look, feel, and sound of a Stevie set with all the musicianship necessary to blow audiences away with the seemingly unending string of hit songs that span Stevie Wonder's musical career.
Tickets for the concert range from $27.00 to $37.00. The easiest way to obtain tickets is to call the Gracie theatre box office at 207-941-7888. Patrons wishing to purchase tickets online are encouraged to go directly to www.gracietheatre.com or www.ticketmaster.com to avoid costly outside vendor fees. The Gracie Theatre is located at One College Circle in Bangor, Maine.
More about Gabriel Bello:
Gabriel Bello is a #1 Billboard & SESAC award winning smooth jazz saxophonist, vocalist and keyboardist.[1] He is also an accomplished producer and arranger.
Born in Lawrence, Massachusetts, Bello is the second of four children. He began playing flute at 11, alto saxophone at 13 and piano at 18. While studying music at Lee University in Cleveland, Bello was diagnosed with Hodgkin's disease. He left school for six months of chemotherapy and radiation therapy. Once fully recovered, he began working full-time with local churches in North Carolina and Virginia. He then moved to Nashville, Tennessee to further sharpen his skills as a songwriter and learn the ropes of the music business. During his time in Nashville, he was one of two candidates to be American Idol Carrie Underwood's music director.
Bello released his self-titled debut album in 2011 at #1 on Billboard's smooth jazz charts. On August 20, 2011, "Gabriel Bello" went to #1 on the jazz album Billboard charts. The album remained at the top of this chart for nine weeks. He also produced, mixed, mastered and played on "Times of Refreshing" by Pastor James R. Adams and the Abounding Life Church of God in Christ Choir & Musicians. This reached #4 on the gospel albums Billboard charts.
On March 7, 2012, Bello was presented with a SESAC Honors Award for the success of his album in New York City along with many others representing the publishing company.
Bello has also been touring the U.S.A. with Billy Joel Tribute Band "The Stranger." He also started his own tribute band to the legendary Stevie Wonder that will be appearing at the Gracie Theatre.
More about the Gracie Theatre:
The Gracie's season is made possible with support from Bangor Savings Bank. The theatre also gratefully acknowledges the generous support provided throughout the season by additional show sponsors including Downeast Toyota, Pepsi and The Dead River Company.
Completed in October of 2009, The Gracie is Husson University's center for the fine and performing arts. This beautiful 500-seat theatre is considered one of Maine's premier performance venues. In addition, The Gracie also serves as a learning platform for students from the New England School of Communications in digital audio, sound mixing, set design and construction, lighting, acting and electronics.
For more than 120 years, Husson University has prepared future leaders to handle the challenges of tomorrow through innovative undergraduate and graduate degrees. With a commitment to delivering affordable classroom, online and experiential learning opportunities, Husson University has come to represent superior value in higher education. Our Bangor campus and off-campus satellite education centers in Southern Maine and Northern Maine provide advanced knowledge in business; health and education; pharmacy studies; science and humanities; as well as communication. In addition, Husson University has a robust adult learning program. According to a recent analysis of tuition and fees by U.S. News & World Report, Husson University is one of the most affordable private colleges in New England. For more information about educational opportunities that can lead to personal and professional success, visit Husson.edu.
Filter Events
Venue
Gracie Theatre
Husson University
Bangor
ME
Eric B. Gordon
207.992.4925
ude.nossuH@rEnodroG