OPENING RECEPTION: WELCOME TO EGG ROCK
Date: April 14, 2023
Time: 06:00 PM - 08:00 PM
Location: Waterfall Arts, Belfast
---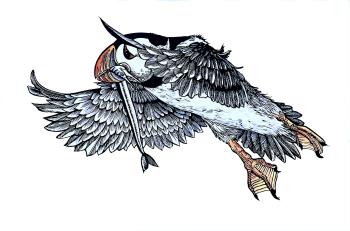 The National Audubon Society's Seabird Institute and Waterfall Arts are thrilled to present Welcome to Egg Rock: 50 years of Seabird Conservation created by Pippin Frisbie-Calder and Terrie Frisbie. With floor-to-ceiling prints and paintings, this immersive, multimedia art installation transports participants to the world's first restored seabird colony on Eastern Egg Rock in Midcoast Maine.
Celebrating the 50th anniversary of Project Puffin, Frisbie-Calder and Frisbie bring to life the inspiring return of Maine's Atlantic Puffins after nearly disappearing due to hunting, and the challenges they now face with climate change. Surrounded by the sights and sounds of this small, six-acre island, participants are invited to peek into puffin burrows, explore the Egg Rock field station, and take home their very own handmade puffin print.
Pippin Frisbie-Calder and Terrie Frisbie are intergenerational (mother-daughter) artists who have combined their love of birds and printmaking to bring this show to Belfast. Follow Pippin at
www.pippinfrisbiecalder.com
or on Instagram at
@pippinprint
.
Filter Events
Venue
Waterfall Arts
256 High St
Belfast
ME
04915
Amy Tingle
2073382222
gro.strallafretaw@yma