On Your Feet! The Story of Emilio and Gloria Estefan
Date: July 20, 2023 - August 19, 2023
Location: Ogunquit Playhouse, Ogunquit
---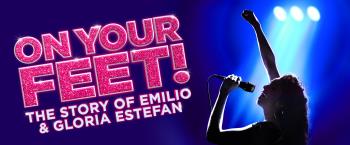 The powerful true story of love, Latin heritage, and the inspiring music of a family whose humble beginnings traversed seemingly impossible boundaries to claim global superstardom.
Experience the extraordinary lives of Emilio and Gloria Estefan in this all-new international production of On Your Feet! Fusing Cuban musical traditions with '80s and '90s high-energy pop rhythms, this multimedia stage spectacle makes "the very air in the room vibrate" says The New York Times.
Spotlighting the music of The Miami Sound Machine and Gloria's iconic solo career — "Conga," "1-2-3," "Rhythm is Gonna Get You," "Get On Your Feet," "Coming Out of the Dark" — their story paved the way for the Latin recording artists of today and cemented their place in music history.
Tickets available at ogunquitplayhouse.org, or call the Box Office at (207) 646-5511.