One Day Workshop: Scherenschnitte (Paper Cutting) with Pamela Dalton
Date: June 15, 2019
Time: 09:00 AM - 04:00 PM
Location: Arundel Farm Gallery, ARUNDEL
---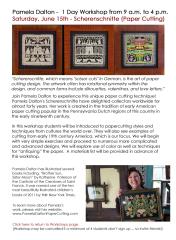 "Scherenschnitte," which means "scissor cuts" in German, is the art of paper cutting design. The artwork often has rotational symmetry within the design and common forms include silhouettes, valentines and love letters"
Join Pamela Dalton to experience this unique paper cutting technique! Pamela Dalton's Scherenschnitte have delighted collectors worldwide for almost forty years. Her work is created in the tradition of early American paper cutting popular in the Pennsylvania Dutch regions of this country in the early nineteenth century.
In this workshop students will be introduced to paper cutting styles and techniques from cultures the world over. They will also see examples of cutting from early 19th century America, which is our focus. We will begin with very simple exercises and proceed to numerous more complicated and advanced designs. We will explore use of color as well as techniques for "antiquing" the paper. A materials list will be provided in advance of this workshop.
Pamela Dalton has illustrated several books including "Brother Sun, Sister Moon" by Katherine Paterson of the Canticle of the Creatures of Saint Francis. It was named one of the ten most beautifully illustrated children's books of 2011 by the New York Times.
To learn more about this workshop and to sign up, visit www.ArundelFarmGallery/workshops.htm