Opening Reception for Final Draft Exhibition
Date: June 26, 2020
Time: 05:30 PM - 08:00 PM
Location: Foundry Art Centre, Saint Charles
---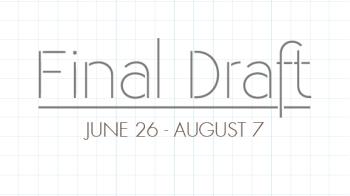 The Foundry Art Centre is celebrating the opening of "Final Draft", an exhibition showcasing design and illustration in fine art. Design and illustration affects and constructs our daily lives; from websites and social media, to billboards and greeting cards, to the way we navigate our surroundings. Visuals created with purpose and intentional design. While they can be utilized differently, illustration and design have long gone hand in hand. For this exhibition we invite all designers and illustrators to display their work in a Fine Art setting. All media is considered for submission.
This exhibition is Free and Open to the Public. During the Opening Reception the Juror will be handing out three major awards. Two Juror's Choice awards of $150 each and the best in show receives a "Going Solo" award. The "Going Solo" award allows the artist to be given a solo exhibition in our Gallery III space. The "Going Solo" winner from "Child's Play", Bridget Murphy Milligan, will be showcasing her amazing paper installations.
This exhibition is juried by David Potthast an artist, designer, and educator from all across the state of Missouri. He received his BFA from the Kansas City Art Institute, and an MA and MFA from Fontbonne University. His approach to art and design is aligned with the tenets of the Bauhaus. Mainly that work can be both intellectually controlled and emotional expressive.
The gallery talks will be at 5:30pm and awards will be given at 7pm.
The Foundry Art Centre is a dynamic, interactive center dedicated to the creation & presentation of contemporary visual and performing arts. Our mission is to connect people with the arts through exhibitions, studio artists, performances, & education. Featuring a state-of-the-art gallery, the Foundry hosts national and international juried fine art exhibitions and curated traveling exhibitions.
Filter Events
Venue
Foundry Art Centre
520 N Main Center
Saint Charles
ME
63301
Organization
Foundry Art Centre
Kaitlin Wilfing
6362550270
gro.ertnectrayrdnuof@snoitibihxe