Paint for Preservation 2018
Date: July 1, 2018
Time: 04:00 PM - 07:30 PM
Location: Breakwater Farm, Cape Elizabeth
---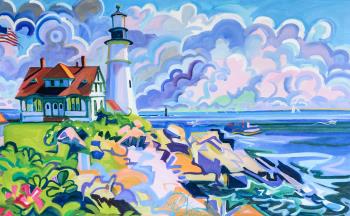 The Cape Elizabeth Land Trust (CELT)'s Paint for Preservation 2018, the organization's eleventh annual juried Wet Paint Auction and one of Maine's premiere art auction events, will be held on Sunday, July 1, 2018 at a stunning seaside home overlooking Richmond Island
During the weekend of the event, from Friday June 29 through Sunday July 1 preceding the auction, selected artists will paint en plein air at designated public and private locations chosen to highlight Cape Elizabeth's natural beauty. On Sunday, the newly painted artwork will be auctioned live at a tented cocktail reception in Cape Elizabeth which attracts about 400 people each year. The reception will feature locally-sourced delicacies catered by Cape Elizabeth's own chef Brett Cary and live music by Cul de Sax, with the support of more than 70 volunteers from the community. Proceeds from the auction are shared with participating artists and benefit the Cape Elizabeth Land Trust's Saving Cape's Great Places initiative to preserve local strategic conservation lands.
In April, samples of each artist's work will be available online, and a map of the artists' painting locations will be available as the date for the event nears.
The event has also garnered generous support from area businesses, including Maine Home + Design, Ethos, Key Bank, R.M. Davis, Inc., Inn by the Sea, Nappi Distributors, Wright-Ryan Construction, Inc., 360 Uncoated, Browne Trading Co., Casco Bay Frames & Gallery, Eyecare Medical Group, Huffard House Interior Design, Knickerbocker Group, Maine Limousine Service, Town and Shore Associates, Veterinary & Rehabilitation Center of Cape Elizabeth, Brett Cary of Chimney Rock Food Co.; and Thomaston Place Auction Galleries.
About the Cape Elizabeth Land Trust
The Cape Elizabeth Land Trust permanently conserves and provides stewardship for lands cherished by the community—from shore lands to marshes, from farmlands to woodlands—for the education, use and enjoyment of these and future generations. Founded in 1985, the Cape Elizabeth Land Trust has permanently protected over 680 acres. CELT is accredited by the national Land Trust Alliance, and is a member of the Maine Farmland Trust and the Maine Land Trust Network. For more information, please visit www.capelandtrust.org or call (207) 767-6054.