Patricia Chandler a Solo Exhibition of Paintings
Date: July 2, 2020 - July 30, 2020
Time: 10:00 AM - 05:00 PM
Location: Richard Boyd Art Gallery, Portland
---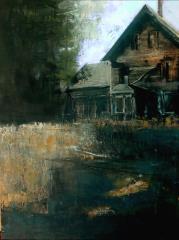 (Portland, ME) Richard Boyd Art Gallery is honored to install another great solo exhibition of paintings by noted artist and educator Patricia Chandler on July 2nd at 10:00 a.m. This is Pat's fourth solo at the gallery and each year her show is amazing. This year's exhibit includes over 25 paintings in a range of styles, from traditional realism to contemporary abstracts.
Born and raised in Maine, Pat's career as a commercial and fine artist, spans six decades. She earned a BFA in Illustration from Rhode Island School of Design in Providence, Rhode Island and MFA in Painting and Printmaking from Rochester Institute of Technology in Rochester, New York.
After several years of working in the commercial field creating illustrations Pat moved to Minnesota, where she renewed her interest in printmaking and painting at the Minneapolis College of Art and Design, moving back to Maine in 1971, later becoming an Adjunct Professor of Painting and Drawing at the University of Maine from 2005 to 2014.
When asked about her creative process and style Pat said, "My creative process and production inevitably refer to my geographic roots. Maine's more remote regions inspired much of my artwork to the same degree that its landscapes informed my early life. Ever since I can remember, the trees and woods, mountains, lakes and fields of Maine have been where my mental, physical, and emotional balance could be restored.
The influence of those sensual memories emerges strongly when I work in the studio. My work includesrealistic paintings that seek to record places and certain senses of space and color in sites more visited in the summer by people from other places. Those are more meditative in practice–exercises. The expressionistic, semi-abstract images touch the feeling associated with those wilderness regions of forest and ocean. The variety of Maine's natural environment is sufficient for many lifetimes of an artist."
Pat recently moved to South Portland, Maine where she continues to create paintings in a range of mediums and styles. Her work is widely collected and held in numerous private and corporate collections across the US.
The exhibit is open free of charge between the hours of 10:00 a.m. and 5:00 p.m. daily through July 30, 2020. Images of paintings hanging in the gallery will be available for viewing on the gallery's Facebook page http://www.facebook.com/RichardBoydArtGallery from July 2nd through July 30th. After the exhibit opens, you can also view images of her paintings on the gallery's website http://www.richardboydartgallery.com click on the Current Exhibit tab.
For more information about the exhibit contact the gallery by phone at (207)-712-1097 or via email at info@richardboydartgallery.com . Hope you'll like us on Facebook and follow us on Instagram.
See you at the gallery!
Pam Williamson and Rick Boyd
Image: Patricia Chandler ~ 'Old Maine House' ~ Cold Wax and Oil on Panel 24" x 18"
#fineartgallery #artexhibition #paintings #contemporaryart #traditionalart #portlandartgalleries #portlandmaine #artgalleriesinmaine #artcollectors #maineartgalleries #familyfriendly #thingstodoinmaine #thingstodoportlandmaine
Copyright© 2020 Richard Boyd Art Gallery All Rights Reserved