Photography Exhibit at Salt Pond Studio, Friendship
Date: October 8, 2020 - October 14, 2020
Time: 12:00 PM - 05:00 PM
Location: Salt Pond Studio, Friendship
---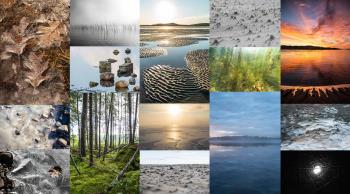 Award winning photographer Amy Durocher will exhibit "Intimate Landscapes" at Salt Pond Studio October 8 through October 14, 2020. There will be a COVID-19 aware outdoor opening event on Saturday, October 10 from 4:00 to 8:00 pm. Barbecue, hot and cold drinks, and fire pit for comfort.
About Amy Durocher
In her photography, Amy finds a meditative practice that allows her to see beauty in unexpected places and achieve a sense of childlike wonder at these surprising scenes. This provides a literal new perspective, allowing for a means to step away from the "noise" of our modern lives. She has practiced this form of photography for 10 years. Amy is a graduate of Parsons School of Design and New York University.
Her work has been seen in the Maine Photography Show, Downeast Magazine, Soho Photo Gallery in NYC, River Arts Gallery in Damariscotta, ME, and the Harlow Gallery in Hallowell, ME.
Prints of Durocher's work will be made available at the Gallery in various sizes and price ranges.
Salt Pond Studio Gallery
Salt Pond Studio Gallery is located at 522 Cushing Road in Friendship, Maine (at the corner of Route 97 and Salt Pond Road). The Gallery is open Wednesday through Sunday from 12:00 noon to 5:00 pm or by appointment. For more information, please call (207) 691-5787. You can also follow Salt Pond Studio on Facebook.
Filter Events
Venue
Salt Pond Studio
522 Cushing Road
37 Beechwood Dr
Friendship
ME
04547
Organization
Amy Durocher Photography
Amy Durocher
2073589205
moc.rehcorudyma@yma
www.amydurocher.com