Piano concert series to open at Franco Center Oct. 15
Date: October 15, 2023
Time: 02:00 PM - 04:30 PM
Location: Franco Center, Lewiston
---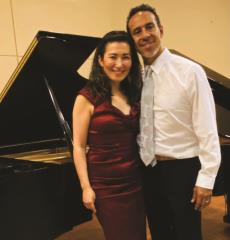 PHOTO CAPTION: Duo Mundi George & Guli will perform in a two-piano concert at 3 p.m. Sunday, Oct. 15, at the Franco Center, 46 Cedar Street. Students 21 and under admitted at no charge. Adult tickets are $20. Call the box office at 207-689-2000. Submitted photo.
Duo Mundi George & Guli piano concert Oct. 15 at Franco Center
LEWISTON — Concert artist and teacher George Sebastian Lopez with pianist Gulimina Mahamuti will open the 2023-24 Piano Series season with a four-hand concert at the Franco Center at 3 p.m. Sunday, Oct. 15. Doors and cash bar open at 2 p.m.
The dynamic DUO MUNDI GEORGE & GULI pairs pianists George Lopez with Dr. Gulimina Mahamuti. Their recent performances include concerts in Europe, Mexico, and throughout the U.S. They gave their New York City recital debut at the Steinway & Sons flagship gallery recital hall in Times Square and premiere performances of newly commissioned works by living composers. For more information, visit their webpages at
https://www.gulimina.com/duomundi.html and https://www.youtube.com/@duomundigeorgeguli9739
The duo explores music for both one piano four-hands and two pianos four-hands in the standard and contemporary repertoire as well as commissioned new works by national and international composers. Since their inception in 2018, Duo Mundi G&G have given standing-room-only performances of Bernstein's Symphonic Dances from West Side Story for the centenary celebration of the composer's birth and their two-piano program "Immigration and Opportunity" with works by composers inspired by or written in foreign lands.
Recently, the pair were invited to perform and give master classes throughout the U.S. including venues in New York City, Kansas, Colorado, California, Texas, Florida, and Oklahoma. In their 2022-2023 concert season, they performed in Mexico and premiered their four-hand arrangement of Chinese composer Shi Fu's Tajik Drum Dance at the 44th International European Piano Teachers Association Conference in Portugal.
Their upcoming recording projects include Music of the Americas, music written for and/or inspired by children, and a series of newly commissioned and rarely performed works. Duo Mundi G&G have an exciting 2023-2024 concert season with upcoming performances and tours in New England, the Northwest, Florida, North Carolina, the Bay Area, Colorado, Texas, and Mexico. They gave their New York City recital debut at Steinway Hall on April 1, 2023, and hope to complete their 2020 tour of China, which was interrupted by the pandemic, in 2024.
Lopez, has been a dynamic performer, sought-after pedagogue, and engaging lecturer for over 30 years. He is the Robert Beckwith Artist-in-Residence at Bowdoin College. Lopez has wowed audiences throughout New England and the world with his entertaining and easy performance style, where he brings each piece to life with a dynamic narrative that totally draws in the listener. Some piano favorites include the great American ragtime composer Scott Joplin, the iconic George Gershwin and the classical stylings of none other than William Martin "Billy" Joel.
Dr. Gulimina Mahamuti is the first Uyghur from China to receive a Doctorate of Musical Arts in Piano Performance from the U.S. She made her Carnegie debut in New York City at Weill Recital Hall and has performed internationally in Montreal, Copenhagen, Istanbul, Budapest (at the invitation of the Turkish Ambassador), and across the U.S. and China, broadcasting on these nations' radio and TV programs. She has performed piano concerti with the Southeast Kansas Symphony Orchestra, Mansfield Symphony Orchestra, and Harbin Philharmonic Symphony Orchestra, and was featured on the radio in San Francisco, Queens College/CUNY podcast, China Touch Radio, and Istanbul Technical University Radio.
Admission is $20 for adults, and at no charge for students 21 and under.
The Franco Center is at 46 Cedar St. and is handicap accessible. All proceeds to benefit the Franco Center. Visit or call the box office at 207-689-2000 or go to FranoCenter.org/shows. Box office hours are 10 a.m. to 1 p.m. Tuesdays and Wednesdays and one hour before every show.