Portland Brass Quintet - Chamber Series
Date: August 21, 2022
Time: 03:00 PM
Location: Denmark Arts Center, Denmark
---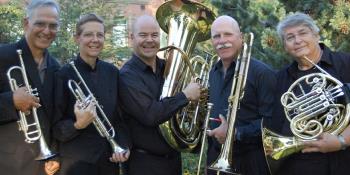 Something Old, Something New, Something Borrowed, Something Blue is a typical program for the Portland Brass Quintet including quintet staples by JS Bach, Victor Ewald and Morley Calvert, recent compositions by Kevin McKee and John Stevens, and familiar jazz standards.
The Portland Brass Quintet is regularly heard throughout southern and central Maine. You've heard this quintet at public or private gatherings, at graduations at Colby, Bates, USM, the North Yarmouth Academy and the University of New England, in annual concerts with the Choral Art Society, Christmas with Cornils and every July 4th at the Bethel Historical Society. The quintet members are active brass teachers throughout New England.
The quintet's members are Betty Rines and Dana Russian, trumpets; John Boden, horn; Mark Manduca, trombone; and Jobey Wilson, tuba.
Filter Events
Venue
Denmark Arts Center
50 W Main Street
Denmark
ME
04022
Susan Beane
gro.strakramned@ofni