Presentation: "The Illustrated Worlds of Armando Veve"
Date: July 20, 2022
Time: 07:00 PM - 08:00 PM
Location: Mechanics' Hall, Portland
---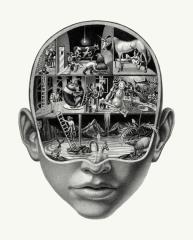 Armando Veve (b. 1989) is an illustrator working in Philadelphia. His drawings have been recognized by American Illustration, Communication Arts, Spectrum, and with gold medals by the Society of Illustrators in NY. He was named an ADC Young Gun by The One Club for Creativity and selected to the Forbes 30 under 30 list. His clients include Adult Swim, National Geographic, Mother Jones, New York Times, The New Yorker, Smithsonian Magazine, The Washington Post, Wired and many more.
Veve will present his work, share a rare behind-the-scenes peek into his creative process and discuss his career path. Please explore his website at armandoveve.com.