Scenes of Maine an Annual Exhibition of Paintings
Date: October 1, 2020 - October 30, 2020
Time: 10:00 AM - 05:00 PM
Location: Richard Boyd Art Gallery, Portland
---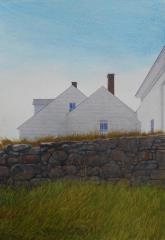 (Portland, ME) For the past ten years Richard Boyd Art Gallery has installed an annual exhibition of paintings from a variety of genres in a range of styles and mediums depicting imagery of Maine in October. This year's exhibit is going to be another great show of paintings documenting scenes in Maine through the eyes of artists with diverse backgrounds, perspectives, and styles.
The exhibit features works that exemplify the diversity of subject matter in Maine which has long been a source of inspiration for artists. The show is comprised of paintings in a variety of mediums and styles depicting scenes from the interior, to the islands, coves, and working waterfronts in Maine. Each work is the artist's interpretation of a scene in Maine.
Scenes of Maineincludes original paintings by gallery artists' Amy Bickford – acrylic based gouache and watercolor; Patricia Chandler - oil, cold wax medium, and mixed media; Kevin Daley – oil; Randy Eckard – watercolor; Jane Herbert – acrylic; Roy Perkinson – pastels; and Wilson Stewart - acrylic.
The exhibit is open free of charge between the hours of 10:00 a.m. and 5:00 p.m. daily from October 1st through October 30th, 2020. For more information about the exhibit contact the gallery by phone at (207)-712-1097, via email at info@richardboydartgallery.com or visit the gallery's website at www.richardboydartgallery.com .
For exhibit updates and news like us on Facebook at www.facebook.com/RichardBoydArtGallery and follow us on Instagram at http://www.instagram.com/richardboydartgallery9327 .
See you at the gallery.
Pam Williamson and Rick Boyd