Schoodic Arts for All: Coffeehouse - Gordon Bok
Date: August 30, 2019
Time: 07:00 PM - 09:00 PM
Location: Hammond Hall, Winter Harbor
---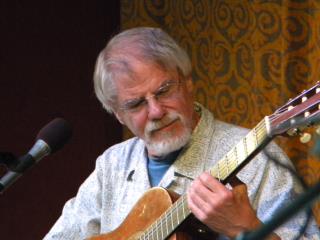 Bluegrass, Folk, and Classic Country music interspersed with Downeast Humor and stories.
"If the sea had a voice with which to sing, it would be the voice of Gordon Bok. "
His repertoire consists of a rich trove of ballads of Maine and the Maritimes, songs and dances from abroad, stories of boats and sailors, tales of seal-folk and cantefables of his own composition, contemporary songs and guitar instrumentals. Gordon Bok grew up around the boatyards of Camden, Maine and is well known for his tunes and songs that reflect the life of the working manner. Gordon received an honorary Doctorate of Science from the Maine Maritime Academy for his reflection of Maine's maritime heritage in his compositions and performances. His music has been sung by many other performers, his lyrics have been quoted in books and used as the basis of sermons, and some of his recordings can be heard in films, most notably the documentary "Coaster: The Adventure of the John F. Leavitt" for which he won an award.