Seanachie Nights-Castlebay-Samhain Celebration
Date: November 18, 2019
Time: 07:00 PM - 09:00 PM
Location: Bull Feeney's Pub, Portland
---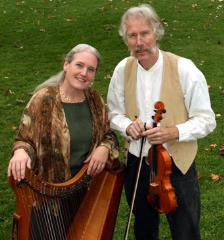 Seanachie Nights, a monthly series of spoken word/musical performances from Celtic and British culture, presents Maine's premier Celtic folk duo, Castlebay, celebrating the autumn festival of Samhain (pronounced sahwhen).
This season called Samhain, which means "summer's end" in Gaelic, is a time for both endings and beginnings; honoring the memory of things past and preparing for Spring's rebirth. More than just a celebration of gathering the fruits of our physical labor, it was believed that we should show appreciation for our ancestors and reap the harvest of their wisdom and experience as we prepare for the next cycle. The Cailleach or "Old Crone of Winter" makes her appearance at Samhain. It was also believed that this is a time when the door to the "otherworld" is open, so we have the opportunity to see both past and future. With this door open, the normal and supernatural mingle and all is not as it seems. Disguises and charms are necessary to confound the tricky spirits and treats are necessary to assuage them. Celtic music and poetry are rich with the symbols and imagery of this potent and mysterious time.
Castlebay members Julia Lane and Fred Gosbeesing and play the music of the Celtic lands interweaving music and lore in their personable performances. Both are accomplished vocalists who support their singing and stories with guitar, fiddle, tin whistle and award-winning playing of the Celtic harp. Come and enjoy an evening of entrancing Celtic music.
For more information about Castlebay, visit www.castlebay.net