Shark Martin-After Dinner Music Series
Date: August 20, 2021
Time: 07:00 PM - 08:30 PM
Location: Denmark Arts Center, Denmark
---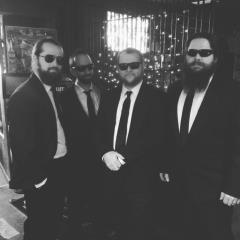 Denmark Arts Center (DAC) performances will be held in Bicentennial Park across from the Arts Center. DAC will follow CDC guidelines for outdoor events-Rain or Shine (Pavilion & Tent onsite). After Dinner Music Series will be a Pay-What-You-Can this summer (suggested $10 donation). Pre-registration is requested.
An wildly fun evening of Funkabilly, Rock, Ska, hip hop, dance, soul music can only mean Shark Martin is in town. Shark Martin is made up of Ryan St. Onge, Shawn Nadeau, Daniel Spofford, and Rafe Matregano. Started in 2007 as a side project, Shark Martin's music has taken on a life all its own. Members, Ryan and Shawn have played 20+ years together! Friendship and fun are a huge contributing factors to the sound that arises. A musical sneak peak treat to tye you over :/) Shark Martin
After Dinner Music Series is supported by Davis Family Foundation-Thank you!