Songs My Mother Taught Me
Date: November 12, 2020
Time: 07:00 PM
Location: The Waldo Theater, Waldoboro
---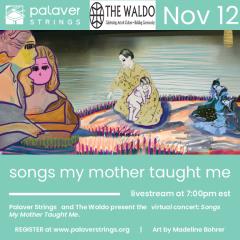 Palaver Strings Reflects on Music from Childhood
Portland-based Palaver Strings presents their second full-group YouTube livestream of the season, on November 12, 2020 at 7PM EST. Songs My Mother Taught Me will be streamed live from The Waldo in Waldoboro, Maine - the theater's first digital concert as they rebrand and remodel.
The livestream will feature a selection of pieces that defines the musical roots of each musician in Palaver and invites viewers into the sounds and melodies of our youth. Featuring everything from opera arias to jazz to indie rock, this program celebrates the diverse musical influences that each musician brings to the table, and the sounds that make Palaver who they are.
Palaver Strings is a musician-led string ensemble and nonprofit organization based in Portland, ME with a mission of strengthening and inspiring community through music. Palaver's musicians share artistic and administrative leadership, guided by a passion for engaging new audiences, addressing social justice issues, and amplifying underrepresented voices through classical music. Each year, Palaver Strings presents over 40 performances featuring diverse musical programming, cross-genre projects, and community collaborations. Equally committed to education, Palaver Strings offers music instruction to over 325 students per year through the Palaver Music Center in Portland, ME.
To register for Songs My Mother Taught Me and for more information, visit https://www.palaverstrings.org.