Sunday Salon | Materiality III |Stephanie Carson + Lisa Kellner + Emilie Stark-Menneg + Loretta Park
Date: December 17, 2017
Time: 03:00 PM - 05:00 PM
Location: Center for Maine Contemporary Art (CMCA), Rockland
---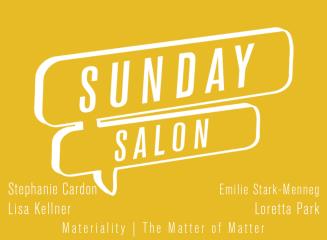 Sunday, December 17, 3-5pm
Free to CMCA members; others with admission
Join us for a talk with artists Stephanie Cardon, Lisa Kellner, Loretta Park and Emilie Stark-Menneg discussing their work in the exhibition Materiality | The Matter of Matter. Stay after the talk for further conversation and refreshments.
Stephanie Cardon is a cross-disciplinary artist from France and the United States. Her current work combines and contrasts materials and colors that commonly belong to the realm of construction and infrastructure. Concrete, wire, or debris-netting mix with stereotypically feminine materials, such as chiffon. Each work is an exercise in building power and resilience through the repetition of fundamentally practical and humble gestures such as sewing, pouring concrete, or crocheting nets. Through the repetition of line, volume, shape, and action, these pieces speak to the acquisition of techniques and skills. In their color and scale, they are efforts in loudness or amplification—attitudes the artist finds uncomfortable but necessary in times of urgency.
Lisa Kellner tries to capture the intangible, lyrical quality of space with an interest in how space is inhabited and what occurs when place is infused with history and memory. Her work combines random patterns found in nature with the human inclination for order and symmetry. By merging these disparate components, the challenge is to distill experiential space to its very essence, and discover the unspoken place. Kellner lives in Deer Isle and has created room-sized installations and two-dimensional works throughout the United States since 2006.
Loretta Park is a multidisciplinary artist currently living and working in Boston. Park is a graduate of Bowdoin College and most recently, the Massachusetts College of Art and Design, where she currently teaches. Questioning when a work is finished, her work is temporal, each piece in a constant state of flux and made of combined diverse materials that are manipulated in a variety of ways. Combining various craft techniques such as sewing, braiding, woodworking and painting, she creates works that are impractical and function-less, making abstract shapes that are non-representational but reference the real world. These densely detailed structures are combined with simple passage of line, becoming at once two- and three-dimensional, and durational.
Emilie Stark-Menneg is an interdisciplinary artist working in Brunswick. Her paintings, sculptures, videos, and performances are about energy and transformation, about the divine, goofy, and ineffable crashing together in a kind of tropical dance party gone haywire. She is constantly experimenting with mediums, watching them run, ooze and misbehave. Dealing with unpredictable materials is akin to dealing with slippery or undetermined subjects and narratives, she is always fascinated by how paintings evolve.